Fiat's global CMO on why the brand's Australian strategy is more 'red leather' than 'blue denim'
Fiat is expanding its reach in Australia as a 'red leather' and 'high heels' brand with the launch of a new crossover SUV, the Fiat 500X.
While global CMO Olivier Francois admits the 500X name may confuse the public into thinking the new car is similar to its 60-year-old family-member, the tiny Fiat 500, he insists the X stands for crossover, meaning a bigger and sportier car. While Fiat 500 drivers may be ready to upgrade to the larger and more capable 500X, the 'crossover' can also stand for an invite to non-Fiat drivers to try the brand now this new car is available.
Francois spoke to media at an exclusive test-drive event to explain the brand's global position and what this means for Australia.
"To understand Fiat, it's important to keep in mind that our brand is incredibly global," he began. "But wherever it travels, Fiat speaks a local language."
The challenge is how the brand positions itself in overseas markets. In its home of Italy and surrounding European countries, Fiat is considered an everyday, 'blue jeans' or 'flip-flops' brand because it is able to compete on cost-effectiveness close to home. Since its launch in Europe in April/May this year, the 500X has reached the number three ranking in compact SUVs for that market.
But in places such as Australia, and the US, where the 500X launched a couple of months ago, the Italian car maker must position itself as more aspirational and design-focused. It is simply too difficult to compete on cost with Japanese and Korean competitors locally.  
He breaks the world up into 'blue' (mainstream) and 'red' (premium) countries.
"It does play in two different playgrounds. You have rational and functional Fiat – think of Panda or Freemont as examples – and the more aspirational, or at least inspirational, on the other end. That's the 500 family."
"The value for money fiats are not simply low-cost. and on the other side, the aspirational side of the brand is not really premium. The blue side of Fiat is somewhat like Ikea; cleverly designed to be affordable. And on the red side, the 500 family is not a luxury brand, not a premium brand, it is just a cool, well-designed, yet accessible Italian brand. A brand you'll pay a little more for because it makes you feel special."
At this stage, local marketing activity for the Fiat 500X is yet to be revealed, but it is likely some of the TVCs used overseas could be adapted for use in Australia.
Product manager Aitezaz Khan described the car's features under the theme of 'X'; 'eXclusive design', 'eXtraordinary technology', 'eXpressive personalisation', and so on.
A partnership with Beats by Dr Dre brings a nine-speaker Beats audio system into the car. Blind spot monitoring, advanced driver assist and a rear spoiler on both offroad and urban models are just some of the functional features.
The 500X is also attempting to appeal to as wide a variety of potential design tastes as possible, with a huge range of colours, decals and other visual appearance choices.
Pricing on the Pop model starts at $28,000, while the Pop Star starts at $33,000, the Lounge starts at $38,000 and the Cross Plus starts at $39,000.
Here are some of the ads other parts of the world have been using to promote the new Fiat 500X:
Interview with the Fiat marketing team
Olivier Francois, head of Fiat brand and CMO, FCA Group, and

Zac Loo, director of marketing and product strategy, FCA Australia.
Marketing: Zac, what kind of marketing activity are you planning to launch the 500X in Australia? Will you adapt some of the overseas ads for the local market?
Zac Loo: From our perspective, we still think TV has a good opportunity, especially with 500X it's a good volume opportunity for the brand. We just need to make sure that the awareness is high of the nameplate to make sure that people are aware the car has arrived. That's part of what we start today, but that process will play out over the next six to 12 months.
We're a different market with a different tone, so we are very careful about what we select. It's always a balance for us. If we can find something that fits globally and we think will work, it's not just about taking what's there and saying copy and paste, it's about making sure that something will fit. We think there are probably some in there that could potentially work. And we're also very careful about, even if we use it, if it's not working, then we'll drop it and look for the next thing. It's not about just choosing one campaign. if it's not working, then we don't just keep running it stubbornly.
M: How quickly are you able to get that response and make that decision? How agile can you be?
ZL: Within a couple of weeks. We monitor instantly and we're always looking at the performance of any of the ads. On one side, you have a good idea of what might happen, but at the same time you want to see the proof that it's actually working. It's one thing to think and it's one thing to know.
So first and foremost, we'll probably look to use some of that [overseas content]. But we've also got some local content on expanding the underlying ideas in more activation ways that we can potentially generate other activities. We're still shaping those up, so I won't disclose them just yet, but we have some really nice ideas of ways we think we can elevate the idea of X and what that means and some interpretations of that.
We want to run alongside a traditional, bigger campaign, but then also find some other ways to permeate into other channels in different, more meaningful ways, and reinterpreting those ideas in other ways. I think we'll find a nice campaign balance as we move through with the balance of some really good ads, and some local content a that we'll play around it.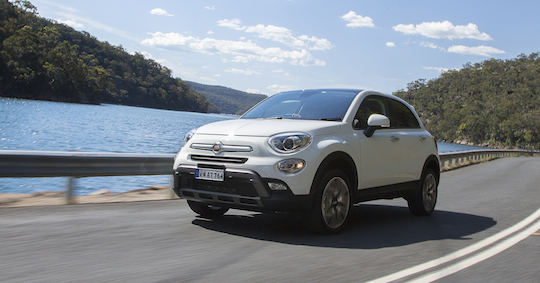 M: Olivier, you spoke earlier about the 500 and the 500X being completely different cars. How are you going to manage people being confused with the similar names?
Olivier Francois: That's a naming convention that started in Europe and it worked very well. But in America, we had to explain. There's a little bit of a limit with this naming. X stands for crossover. You have the Tesla X. They all call it X. You know the problem is not the X, it is that the 500 has very strong awareness, it has been around for 60 years, so people when they hear 500, they picture something, and that's something else. As a matter of fact we'll have to cope with it, but be very clear that this is a big Fiat.
ZL: For as many weaknesses that it has, it has a big strength: one of the things for us is we have reasonably good awareness, and opinion and consideration is there. Part of the biggest challenge for us is not just purely name plate recognition, which we definitely want, but the other flipside is, at least if they think 500, they instantly think of Fiat. so if we can get them to the website, that's where we can re-qualify them. Often, if they see the car, and they go, 'Great, I love the look. Oh, Fiat 500, I know fiat.com.au.' So as much as it confuses the name plate recognition, it gets them to where we need them to go to, and then we can start the dialogue with them and then they can self-select the 500 or the 500X.
M: So it is the same target market then? When we're talking about 'them' are we talking about the same people? Or is this branching out to attract a new group of people?
ZL: We think very separate.
OF: You might have some loyalty, it's also a good one to retain the current customer who wants to evolve and go bigger.
ZL: I think Olivier's right in that, what we see with 500 is we get obviously a broad spectrum, but where we get some points of particular interest is very much in a first, early car. We've seen very much transition into the crossover space. The 500 has allowed people to buy an aspirational car they like, that fits their lifestyle when they're first buying a car, you know, two doors, around town, but maybe you progress a bit in your life, and you want four doors for maybe a child, maybe more friends, or something like that, and they are definitely coming out of that first car, so the 500X is that second car.
M: When we talk about those small cars, in Australia, things are changing now but traditionally practically everybody's had a Commodore or a Falcon, which are massive. So how do you get in there when that's the culture?
ZL: If you look at the top 10 selling cars for each year, in the 90s and even early 2000s, Commodore and Falcon were the top selling cars. But literally for the last 10 years, it's been small cars; a small hatchback like a Nissan Pulsar, Corolla, Mazda 3. What we're seeing is, that was a formula a bit like a Commodore or a Falcon that worked really well, for a past time. But now the rise of the compact crossover SUV is phenomenal. We see the lines just converging, and they're pretty much at a point of crossover.
We're not looking for a Commodore or Falcon buyer to step down. We're looking for someone who's in a Pulsar or maybe a Golf or something like that, and who doesn't want the limitations of a hatch or a small sedan anymore. They want something that speaks to them personally, obviously as a first point, but practically it also meets a lot more than those existing cars.
M: So talking about that aspirational set, who fits into that segment? How do you differentiate that group who feels emotional about the Italian design and all of that?
OF: By the way, the funniest thing, it has been a long time, and keep doing it, but I totally stopped trying to predict what the customer would be years ago. Try to do it anyway, it's fun. But you never know.
M: That's interesting in itself. Much of that talk about marketing's evolution says we used to be product-focused, but now we're supposedly moving to being more customer-focused; looking at who the customer is and what we can create to service that market. Do you feel like that's less relevant than a lot of people are saying? You need to create something and be innovative, and whoever it inspires may surprise you?
OF: I think so. Unless you do something extremely targeted, then you really invest your money based on the assumption that that guy here or that lady there is your customer. But in this case, there are very few cars that are that targeted. This is called crossover also because it crosses over generation, age, gender, really anything. It's really in the heart of the market.
ZL: By definition it doesn't have precedent. It's not like we have had 20 years of building crossovers. It's not like, 'what are we building for the people who like crossovers and how can we change it a bit?' You could build any car to a committee – you know, what does that group want? They want more cup holders. What does that group want? Softer seats. And you end up with a car that maybe pleases people in some ways, but it doesn't really mean anything.
OF: Frankenstein.
ZL: I think to Olivier's idea, if you create something that you're confident in, if you bring something into the world that didn't exist before, that has its own story and its own reason for how you got there, that's much richer than the idea of, 'here's the car we made because we surveyed 100 people and this is the sweet spot of how we should've made it'.
OF: The one thing really to her point that we should answer is: who is the guy or the lady who are they going to be available to spend this little premium? Compared to the mainstream, who are these guys who are going to be willing to pay $2000, $3000, $4000 more to have this Italian design? I cannot tell you that we are going to massively sell to young people or old people or family or the one with the dog or… no. But for sure, we will speak to people with a slightly higher level of education, interested in art, maybe frequent a museum, maybe fashion as well, if you travel… In America, we really sell more to the rare Americans who spend a holiday from time to time in Europe. Not even necessarily to Italy, but who have a vision that goes a bit beyond.
ZL: We try to predicate where we think the car will fit, and even if it's not that customer who's buying it, at least we set the aspirational set for where we're going. They are all the things you would assume: more highly educated, they earn more money, and those things afford them greater luxuries in life. They are far more interested in the arts, theatre, opera, much more widely travelled. And Italian culture permeates a lot of Australian culture in some subtle way, everyone had an Italian mate at school and went around to their house. Often Australians have travelled there, and those that have are the ones that resonate most strongly with the brand because they sort of understand Italian culture – it's almost that little piece of the holiday romance everyday. We go after that person because they're definitely the person who understands the passion that comes with the car, and where we want that aspirational set to come, but that doesn't mean we don't bring forth a much wider set with it. We set where we'd like it to be, and whoever comes along for the ride, comes along.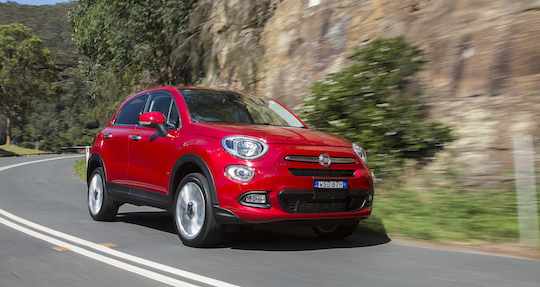 M: Talking about marketing more broadly, Olivier, I want to get your thoughts on how things have changed, where you see the direction that marketing is going in, and what's important?
OF: There is this crazy multiplication of screens. The average TV viewer watches TV while watching something else on a tablet, and checking out his Twitter account on mobile. It's a multi-screen landscape that's a challenge for the budgets, because we cannot be everywhere. You can't maintain your share of voice without an incremental cost if you want to have the same share of voice on every medium.
Every new channel, every new media, every new screen, every new type of digital consumption is an opportunity to do something different and to channel the customer in a different way. And we probably want to use them all, including traditional TV advertising.
But at the same time, we have this challenge because you can't be everywhere, so you need to be selective – and that's not always easy.  
TV can't do everything, so you need the other screens to pull you further down in the funnel. Clearly a little bit of an urban legend in a lot of companies is, 'let's just go digital and CRM and generate leads' but I'm still convinced that you need to maintain a decent share of voice when it comes to consideration.
I'm a big believer in brands; people will buy into brands and not just products. 'Does the brand stand for the same thing that I stand for? Does it mean something? How does it make me look?'
So I think you still basically need below the line, above the line, everything – but the challenge is, how do you keep your budget under control while the media becomes so incredibly fragmented?
M: So what are the goals for the Fiat 500X in Australia? What's the dream with this car?
OF: Normally that's where we're supposed to be like an angry pitbull [laughs].
ZL: We never talk about sales volumes…
M: You can tell me something else if you want.
OF: Advertising will never ever deliver what just a car on the road does. If the car looks good. In our case, people are, everywhere, 'I love the car, I love the car'.
M: How many Fiats do you have in Australia now?
ZL: I'd have to check the figures but on 500 we're well into the 5000s or 6000s. But obviously 500X is still to go.
OF: The visibility of the car on the road, that thing is crazy. In Italy, they consider that you need 20,000 cars on the road to start having it visible; to notice it.
We started with 500X [in Italy] in March-April, and since then, until August, I was nervous. The numbers were okay, but just okay. They really were what I had promised, so I was delivering, but it was not what I was dreaming. Then apparently somewhere around mid-September that's where we delivered 20,000 cars. We made an amazing October, an amazing November. It's like a snowball effect. We tripled the numbers. Now we can't even deliver. Let's knock on wood, but the train has left the station. It's great.
M: So you needed 20,000 in Italy, how many do you need in Australia?
ZL: The rough estimation is once you get your first 1000, you've got 500 in Melbourne and Sydney, that's your critical mass. If you're in the city, the urban area, you'll start to at least see them if you're out on an average drive. That's kind of a rough start. And you're right, it's just building that momentum.
OF: So after one hour of intense brainstorming, we came to the conclusion, and this is going to change your life… Here's what we think: if you sell a lot of cars, that you can see on the roads, it's better than if you don't sell shit. We think that it's good to sell a lot of cars.
No, I'm kidding, but great awareness, a beautiful car and happy customers, is better than having no car, no awareness, shitty quality, and a pissed off customer. And I think that on this note…
M: Thank you both so much for your time.