Fitness First's marketing director talks us through the gym chain's major rebrand
Five years ago, Fitness First was in trouble. Loaded with debt, the international chain of gyms was heading towards bust. To its rescue came Oaktree Capital. Its GBP100 million investment would mean big changes.
Following that August 2012 life line, the chain pulled out of all European markets except Germany and its home market of the UK. It would focus on these and its other key markets of Australia, Asia and the Middle East..
In came new management, with Andy Cosslett, previously of InterContinental Hotel Group and Cadbury Australia, taking on the global CEO role and Pete Manuel, formerly of P&G, heading the Australian business. Locally it's receiving an injection of AU$30 million – on top of the average $20 million spent each year on maintenance – including a new $7 million club at the busy Melbourne intersection of Flinders and Elizabeth Streets.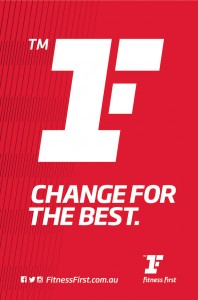 But that new club location is the exception to Fitness First's strategy for the coming years. From its entry into this market 10 years ago through acquisition of existing health clubs, Fitness First's reach peaked at 100 locations. It has scaled that back to 78, with the focus for next three years on upgrading existing locations. Any new locations are painstakingly vetted. "We have really specific criteria for where a Fitness First can be and the type of area it can be in. Because we're more expensive than your average gym, we tend to go only into inner urban areas, with a fairly high socio-demographic," says Anthony McDonough, marketing director of Fitness First Australia, speaking with Marketing ahead of this week's rebrand campaign launch.
"Our core member is 25 to 44 male/female, AB, but also very white collar." The eastern suburbs crowd is McDonough's focus, and after selling off its South Australian businesses in 2012, Fitness First will be present in Sydney, Melbourne, Brisbane, Perth and Canberra.
McDonough joined the company in April 2013 to help change the brand. "If you had been a member five years ago then you probably had an awful leaving experience, which is the thing that we're known for," he says. "We're fighting very hard to change that image." The reason for the awful experience, McDonough says, was as the company's financial troubles worsened, holding people in contracts became more and more important. "A little bit like telcos, it was very hard to get out of a contract once you joined."
"We've spent the last two years improving that, to the point that from the brand relaunch today we're introducing a pay-as-you-go option, which means absolutely no contract at all. We're the only gym chain in Australia that will offer that. And obviously we're throwing out the challenge to our competitors to follow."
The research effort behind the changes has been extensive. 16500 members responded to surveys, and data from ex-members played a significant role.
"We [now] have a philosophy that members join for a reason, a season or a lifetime. In the past we really only catered for members that wanted to join for a lifetime," McDonough says. "As we started to talk to members, we quickly found they join for a reason, [such as] they're getting married, or they have a special event coming up. Or they join for a season – they play football in the winter and they want to do something in the summer. Or they join for a lifetime, it's a part of their everyday habits, they train five days a week, and their life revolves around the gym."
The option to pay as you go is an initiative of the Australian part of the international changes to the business, but, "What we are finding is that a number of the initiatives we're doing here, the global team is looking at, and they're likely to take on some of the learnings from here."
The company is also launching a 'fitness guarantee', another industry first, McDonough says, which promises that as long as members train with Fitness First three or more times a week, they can leave at any time, with no notice period required and no fees payable. "We know that people who train consistently get the results, and therefore there's no reason for them to want to leave unless something has happened, such as they've had to move house or change jobs."
The launch campaign for the rebrand kicks off this week and includes a visit to Australia by actress and fitness guru Jane Fonda, who'll help relaunch the brand at Fitness First's Market Street club, which has just been refurbished. McDonough says the choice of Fonda was made because she's the "face of fitness through the ages."
On media, a concentrated $5 million is being spent, predominantly outdoor and online. The brand's new, key tagline is 'Change for the Best', and McDonough says, "It's not only us changing for the best, but also for other people to change to us for the best."

Additionally, Fitness First Australia will this year sponsor the Fitness First Corporate Triathlon Series, Australian Rugby Union, Sydney Gay and Lesbian Mardi Gras, and the fitness industry convention, Filex.
As you'll see from the campaign, Fitness First is rebranding at the same time. It's to give people a visual cue that things have changed, McDonough says. "When we've spoken to ex-members and asked them what it would take to believe that we've changed, they've said, 'well, you can no longer be blue.' So after going through every colour in the rainbow, we've come out with a new branded colour, which is red, which also fits really well with our wanting to be a fitness leader. And we have a new logo which will be quite interesting to look at, to see that we've got a signal of change."
The new colour and logo, which may convince some customers to give the gym another chance, are merely signals of the deeper change within the business, which is what will ultimately decide whether customers stay loyal and management has a sustainable business on its hands.
"We're in a really good position to start to change what people think about Fitness First," says McDonough. "We know we have work to do but we also know that we're moving in the right direction."