Frankie magazine named more fashionable than Vogue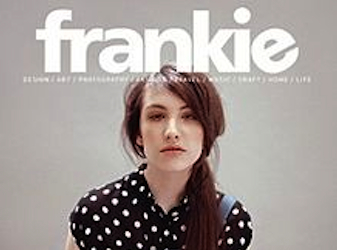 Frankie magazine was named magazine of the year for the second year in a row at this year's Australian Magazine Awards (AMA). The cult magazine published by Morrison Media also beat top fashion titles Vogue and Marie Claire to be named best fashion title of 2013.
Julia Zaetta took home Editor of the Year as well as a place in the prestigious AMA Hall of Fame. Other key winners for this year's AMAs were Delicious, Real Living, Australian Women's Weekly, Men's Health,Grand Designs Australia and Myer Emporium. Bauer's Coles magazine won best Magazine App.
Full list of winners:
2013 Australian Magazine Awards
Magazine of the Year: Frankie (Morrison Media)
Food & Entertainment: Delicious (NewsLifeMedia)
Home & Garden: Real Living (Bauer)
Women's: Australian Women's Weekly (Bauer)
Health & Family: Good Health (Bauer)
Fashion: Frankie (Morrison Media)
General Interest: Money (Bauer)
Motoring & Men's: Men's Health (Pacific Magazines)
Niche: Australian Photography + Digital (Yaffa Publishing)
Newspaper Inserted Magazine: AFR Magazine (Fairfax)
Cover of the Year: Harper's Bazaar, May 2013 (Bauer) / Vogue Australia, February 2013 (NewsLifeMedia)
Editor of the Year: Julia Zaetta, Better Homes and Gardens (Pacific Magazines)
Custom: Myer Emporium (Bauer)
Launch: Grand Designs Australia (Universal Magazines)
Magazine Event: Vogue Fashion's Night Out (NewsLifeMedia)
Magazine Website: Vogue Australia (NewsLifeMedia)
Magazine App: Coles Magazine (Bauer)
Hall of Fame: Julia Zaetta