From 'big things' little things grow
One of the best episodes in the Netflix political drama 'House of Cards' has its leading character, US Congressman Frank Underwood, played by Kevin Spacey, under attack over South Carolina's controversial 'Peachoid' structure:
"I've been saying for years we should tear it down. It's vulgar, it's embarrassing to the county. But time and time again Frank Underwood has fought to keep it standing. If it wasn't for him, the Peachoid would've been replaced ages ago."
In a crisis meeting, discussion is had about the unquantified soft marketing benefits for the horticulture industry versus the cost of its maintenance and lighting, and driver safety risk.
The structure stays, though more as a symbol of Underwood's authority. Here in Australia, if a giant fruit replica was taken down it would cause a stir – something Nando's used to its advantage last month.
While Australian tourism has worked hard to shake its 'dumb blonde' image with sophisticated up-market
advertising
of luxury accommodation, our love affair with giant kitsch installation art is far from over.  Moreover, there's something of a revival in the air for 'big things', valued for their potential as small business (tourism and primary industry) cross-marketing platforms.
The 'big things of Australia' are a loosely related set of 150 novelty architectural structures, which began in 1963 with the Big Scotsman in Medindie, Adelaide.  Every state in Australia has at least one of the big things. To guard against the wrecking ball of cultural cringe, many of these works of folk art and have been heritage-listed.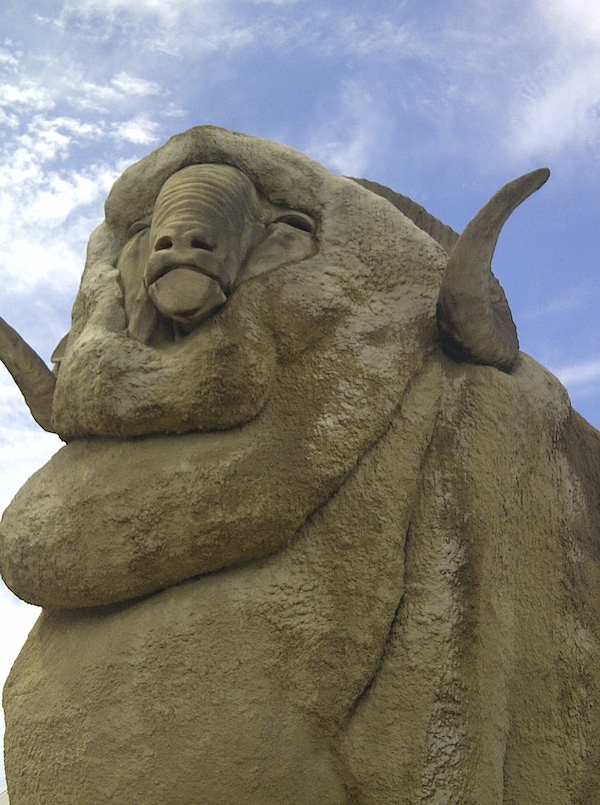 Sitting a kilometre off the F3 exit to Goulburn is my hands-down favourite, 'Rambo' the Big Merino that that towers above the Shell petrol station.
The Big Merino has its own website, which is a model for any region lucky enough to have a big thing. It shows off a recent buzz marketing stunt involving the structure wrapped in a woollen scarf to promote new season's knitwear. Wool brand Toorallie used the sculpture to great effect to plug a diverse collection of luxurious merino possum knitwear, soft Australian made alpaca and mohair throws, and its collection of pure wool scarves.
Australian Wool Innovations has a permanent exhibition on the 200 Year History of Wool in Australia displayed under the giant ram. From the exhibition visitors are able to take a trip to the top to view Goulburn from Rambo's eyes.
Scores of country horseracing enthusiasts will stop there this weekend as they journey from Sydney through Goulburn, Australia's wool capital and first inland city.
Rambo stands conveniently at a turnoff to Binda, via Crookwell, and foodie mecca Laggan, offering a good range of food and fibre farm tours, and farmstay options. Best Restaurants of Australia and Good Food Guide 2014 listed restaurant The Mill at Laggan as offering prime NSW lamb from the district.
Binda is also the location of one of the state's best annual picnic races, held this Saturday at 'Funny Hill', a working cattle business owned by Jim Carr. The property is also home to some of the finest examples of classic Australian woolsheds.
As any regular race-goer will tell you, ladies brave enough to enter the 'fashions on the field' competition wearing summer weight Merino wool should be warned – judges have a keen eye for quality and provenance.
As the district celebrates its history in sheep meat and fibre, and looks to its future in tourism, those hundreds of farms, restaurants, and other businesses linked to the region's wool trade have much for which to thank their destination brand mascot.
While road trippers filling their petrol tanks behind Rambo might find the back-end view of the structure confronting, the scale models of perhaps the largest testicles in Australia only serve to reinforce the point of these tourist traps.
From big things little things grow.