Google's new survey tool: DIY research tool and pay wall alternative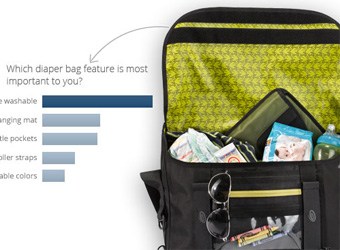 Google has weighed in on the pay wall debate, launching a new microsurvey research tool to make market research more affordable and act as an alternative revenue model for publishers in the US.
'Google Consumer Surveys' is a survey tool which blocks sections of webpages or articles until the reader answers a question, paying the website owner five cents per response when they do. The service is being billed as an alternative revenue model for publishers considering a pay wall strategy, launching with a handful of news partners last week.
The service works as a DIY research tool, charging users 10 cents per response to questions of the their choice. Buyers of the research have the option to pay an extra 40 cents per response to target sub-populations based on gender, age and location and can target more specific audiences, such as dog owners, with a screening and follow-up question option that costs an additional 50 cents per response.
According to Google Consumer Surveys product manager, Paul McDonald, the tool has been introduced to make research affordable to small- and mid-size businesses that typically can't afford to hire a market research firm. The tool allows users to create anonymous surveys via a self-service online interface which also analyses and presents the data in real time, simple reports.
So far a few newspapers, including New York Daily News and the Texas Tribune, internet-radio service Pandora and AdWeek have signed up to trial the service. According to McDonald, Google has been in ongoing talks with The New York Times and The Wall Street Journal to also trial the service.
With the questions potentially having nothing to do with the site's content, Google says it is taking steps to make sure the surveys stay as engaging as possible. "We were looking to minimise the time between the surveys and content," McDonald says. "We feel like spending six to eight seconds on a survey is a good trade-off compared to watching a 30-second ad."
Response quality will be managed by the system which can track if users only answer the first question on each page or answer too quickly. To pre-empt any privacy fears, the search giant is emphasising that all surveys will be completely anonymous and that Google will not use any data collected for its own ad targeting.
In the video below, Google claims that its tool can overcome panel bias and makes custom market research easy. No announcement has been made from Google on when or if the product will launch in Australia.