Guerilla marketing hits Sydney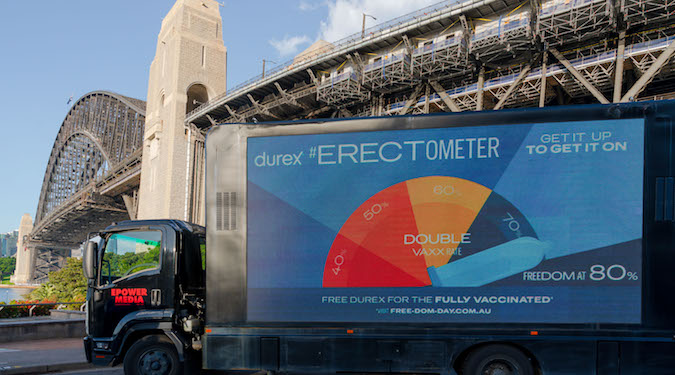 Last week, the streets of Sydney were hit by two controversial guerilla marketing campaigns. From health start-up Ovira and condom manufacturer Durex.
Using the same medium for two different ideas, both Ovira and Durex utilised mobile billboards to spread their message.
Ovira
The Melbourne-based women's health start-up used its mobile billboard in support of Nick Drummond's victim. 
A billboard with 'You will not silence our pain' was parked outside of Knox Grammar, former high school of Nick Drummond, who allegedly assaulted a young woman in December 2020. The case was controversially thrown out by the NSW courts in September 2021. 
Providing non-invasive period pain relief, Ovira is on a mission to end all unnecessary suffering of women. Founder Alice Williams spoke about the need to draw attention to the controversial case. 
"The fact that the young man had his convictions erased is disappointing, but unfortunately not surprising. It's just one example of how alarmingly comfortable our society is with pain and suffering being an expected part of life for women," says Williams.
"It's reflected in the horrific numbers of violence against women and filters all the way through to so many parts of our daily lives, (like period pain, endometriosis, painful sex) – where women's pain is repeatedly dismissed." 
Parked outside the prestigious school, Ovira's billboard sparked conversation. The billboard achieved its goal – conversation about the silencing of women.
Durex
Durex Australia launched a campaign that encouraged the people of New South Wales to get vaccinated. Produced by the brand's in-house creative team, RB Studio, the campaign also used a giant mobile billboard. The billboard shows real-time vaccine numbers of NSW. 
The aptly named #Erectometer features an erect Durex condom that will reach 'vax climax' once 80 percent of residents are double-vaxxed. The condom company is preparing for the forecast 'sexplosion' when lockdown ends.
The billboard will drive around Sydney until 'free-DOM Day', stopping at the cheekiest named suburbs. From Homebush to Mona Vale and Pleasure Point, the #Erectometer is set to clock up some miles.