Hawthorn Football Club re-engages fans with personalised videos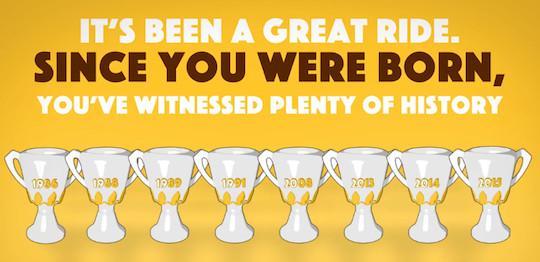 With the 2016 AFL Premiership season now under way, the Hawthorn Football Club has launched a personalised interactive video campaign to target members, un-renewed members and Facebook fans.
The video enables Hawks fans to create a unique experience outlining their their lifetime as a Hawks fan, which can then be shared with friends and family.
Created by Data Creative, the technology aims to excite members into renewing their paid memberships, while reconnecting with previous members and fans who have not purchase paid memberships.
The personalised video was sent via text message to members and expired members, followed by an email rolled out to all 'fans' containing a link to the Facebook app.
Personalised lifetime Hawthorn stats are included in each video, customised by using date of birth membership information, and include winning percentage, wins, losses and draws, total goals kicked and total premierships won during the viewer's lifetime.
Membership, community and fan development manager for Hawthorn Football Club Jeremy Millard says he's never seen a campaign of this calibre.
"Every year before the season kicks off we look at how we can further engage with our fans on a deeper level, but trying to cut through this kind of market is difficult. This is the first year we've tried something different that we feel is highly innovative and that no other club in the sporting industry has done before," he says.
Hawthorn CEO Stuart Fox says since members invest heavily in the club, it is the club's responsibility to provide the ultimate fan experience and find innovative ways to connect with them.
"We want everyone to have a strong sense of belonging and ownership through their involvement with Hawthorn Football Club. It is the first time we have seen this level of personalisation in our communication and are excited to see the cut-through it generates," says Fox.
View Hodgey's personalised video here »