How a bold outdoor campaign gave Bookworld its first $1 million week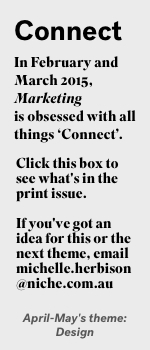 This Marketing case study tells the story of Bookworld's biggest Christmas campaign since rebranding from Borders.com.au, that led to a 59% bump in year-on-year results and its first $1 million week – an achievement not seen before even when the business had 30 Borders stores driving traffic to the site.
Campaign: 'Book Stop'
Client: Bookworld
Agencies: Ikon Communications, VCCP
Background
Bookworld was launched as a new pure-play online retailer into the highly competitive Australian book industry in August 2012 after rebranding from Borders.com.au. With online competition coming from major overseas retailers such as Amazon, and traditional competition from an already established bookstore network in Australia, Bookworld needed to stand out from the crowd.
The first year was focused on creating a unique brand voice that was different to anything else within the local book market, while also creating a compelling consumer proposition. Bookworld launched with Australia's biggest range of books, a price guarantee to be cheaper than Amazon and free delivery on every order to ensure it was providing its customers with an industry-best experience and giving them a reason to consider Bookworld over the overseas companies.
Bookworld experienced strong growth and began focusing its attention on social marketing, seeing quickly that there was space for a fun and irreverent brand in the Australian book market.
With a compelling offer established and a fast growing online community Bookworld required a high-impact campaign to further increase brand awareness of the still relatively unknown brand (compared to the overseas retailers and the more established bookstores), while also driving consumers to the site during the competitive Christmas period.
Objectives
The objective was to stretch a limited marketing budget to create increased brand awareness within the core target market (over-30s book buyers), and in doing so help the business achieve increased sales at Christmas of over 25% versus 2012.
Books are a Christmas gift favourite and online bookselling has revolutionised how Australians shop, with many using overseas companies such as Amazon. However these large competitors can seem distant, impersonal, and carry the risk of late delivery at peak Christmas periods.
In contrast, Bookworld offers the largest range in Australia, the Amazon Price Guarantee and fast free delivery. Equally as important is that Bookworld is a locally operated business, meaning it can be personal and tangible.
Customer research showed that although books are a highly compared product, with customers often shopping across three different stores before making a purchase, once they came to Bookworld the low prices and fast delivery times meant they came back.
Being a new brand our whole focus was on acquisition – how do we get people to visit Bookworld?
In the approach to Christmas we needed a standout activation that was going to cut-through the noise of the cluttered Christmas marketing period, and that would increase our brand reach by reminding Australians that they didn't need to shop with overseas companies this Christmas.
We wanted to create conversations around the brand, and needed to do that in a cost-effective way that would appeal to a large target audience.
Strategy
Bookworld's audience is primarily the main household buyer who purchases books for themselves and their families, however at Christmas this gets broadened to a much wider target market including students, males and 50-plus. We needed to speak to book buyers first and foremost.
To achieve the objectives set we were looking for a powerful but simple event to get book lovers talking.
Create cut-through in this busy period with a bold, interactive execution using a media-first, out-of-home activation,
increase brand awareness for Bookworld by delivering books directly to consumers, transforming local bus shelters into pop-up bookshelves,
create conversations around the brand through quality video content, leading to website visits and social media interaction, and
support the execution with strong Australian-focused messaging across outdoor, print and digital.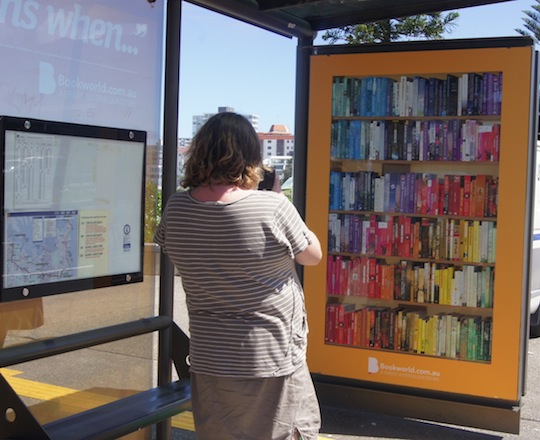 Execution
We created a campaign that was the first of its kind in Australia and that helped us position Bookworld as being locally Australian by bringing our books directly into their everyday lives.
Working with both Adshel and JC Decaux we filled out of home panels in bus shelters across Sydney and Melbourne with physical books, with their spines creating shapes of Christmas trees and rainbow-coloured bookshelves. Brand ambassadors were used to engage commuters with the brand and distribute Bookworld vouchers, and the shelves were a huge hit across social media.
In two locations in Sydney and Melbourne we created interactive events by opening up the shelves, transforming the bus shelters into pop-up bookshelves and allowing commuters to browse the shelves and take a free book for their journey. We set up hidden cameras around the bus shelters and stood back to see what would happen.
The unique experience engaged the audience in their everyday routine, resulting in delighted commuters discussing their book choices, recommending books to each other, and even missing buses to browse the shelves. The response was beyond our expectations and from the content filmed on the day we produced a high-quality video clip that we distributed across social and to our Bookworld community ensuring the event was seen by a broad audience.
Commuters were given information about the store, including a voucher for their next purchase, pushing them to interact with the store online and creating ongoing customer interaction over the Christmas period. The activation gave away over 6000 books and offers to commuters.
The 'Book Stop' clip provided a fantastic piece of branded content that continues to be a strong acquisition driver across digital media and social, encouraging new customers to engage and interact with the brand.
The 'Book Stop' campaign was supported with messaging across outdoor, print and digital that demonstrated our unique selling points using subtle Australian-isms – such as 'Mate's Rates. We'll beat Amazon by 10%'; 'For We Are Young And Free Delivery'; and 'A Great Dividing Range'.
Results
Business results were beyond expectations. The objective was to achieve a 25% increase on 2012 (using the same budget).
Sales increased a massive 59% on 2012 results (Nov/Dec). The campaign led Bookworld to achieve its first $1 million week, an achievement not seen before even when the business had 30 Borders stores driving traffic to the site.
Success of the campaign was undeniable across all metrics:
54% increase in brand traffic for period of campaign,
50% increase in memberships,
52% increase in email sign-ups,
generated over 150,000 direct social media interactions during campaign period,
record number of new Facebook likes for period of campaign – the campaign generated 6000 new Facebook fans, up 150% from average,
more than 160,000 views of the bus stop bookshelf video clip on YouTube, and
generated 10 quality editorial pieces including leading newspapers, news websites, niche trade and industry websites.
The interactive event was an outstanding success. A media first, using bus shelter panels as actual shelves, not just for retailers but for any category in Australia the 'Book Stop' campaign resonated with book lovers, consumers and publishers. By bringing the Bookworld experience into the everyday we could express our point of difference from major overseas online competitors and build a meaningful connection that ultimately boosted sales.
The campaign has already been recognised by both the online and advertising industries when we were awarded Best Online Retail Marketing Initiative at the Online Retail Industry Awards in July this year; Best use of Social Media by SmartCompany and won at the Media Federation Awards in the Clothing/Cosmetics and Retail category.
Another unexpected but notable success of the 'Book Stop' campaign was our ability to continue the idea of the Bookworld Pop-Ups early in the new year. Having received a number of enquiries from people on social media to do a pop-up in their local community we ran a competition for them to tell us why. This attracted a massive response and the shortlist of four notable locations/communities was voted on by the social community and we ended up surprising a town in Outback Queensland with Australia's most remote pop-up bookshelf.