How The Met united its brand identity and broadened its appeal
Marketing speaks with Cynthia Round of New York's Metropolitan Museum of Art about unification of brand identity, and ushering in a new age of accessibility for a new generation of visitors.
With six million annual visitors, The Metropolitan Museum of Art (The Met) in New York City is the USA's largest museum in terms of visitation numbers, and the city's biggest tourist attraction.
Other venues under The Met master brand the Cloisters museum and the newly opened Breuer modern art facility. But declining worldwide attendance rates to museums led The Met to embark on a mission to make its offering more accessible to a wider range of visitors, a project that included the creation of a brand new, unified and user-friendly physical and digital museum experience.
Marketing spoke with Cynthia Round, senior VP for marketing and external relations, The Met, about the undertaking.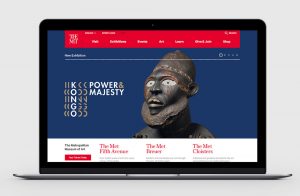 Marketing: What's your take on how The Met has been approached from a brand and marketing point of view in recent history? It seems to be at a crossroads as it undergoes expansion.

Cynthia Round: It's fascinating. The Met was obviously already quite successful as an institution when they came to me three years ago and said, 'We think we need to take a look at our brand'.
It was already a museum of great significance and high visitation. Tom Campbell, the director, realised a couple of really important things. One of them was that historically, art museums – this is pretty much true around the world but certainly true in the US – including The Met, have been considered somewhat elite institutions. As we looked forward to the future, and thought about the next generation of museum visitors, art collectors, artists, those who would become members, and real supporters of the museum, we wanted to make sure that we were relevant to that audience.
Also, by mission – because it is a non-profit – The Met wants to be as open and accessible to as large and diverse an audience as possible. They had public affairs and, of course, had been doing some work in some tourism marketing, but they'd not formed a real bona fide marketing department.
They recruited me to do two things: one was to do a brand project and the the second, to actually create a robust, world class marketing operation within the museum.
I started out with a very large scale 'listening project', as I called it. Really doing research, both qualitative and quantitative, on the various constituents and audiences, just like one would do in any kind of consumer marketing operation. Making sure you really know who your audience is, what they care about, what they think about you, all those things.
We even included a very interesting cultural anthropologist who did an ethnographic study of our visitors, and followed people around inside the museum.
It was about The Met, but it was also about museums, and art experiences, and live art experiences overall. In some ways, The Met is kind of like the category. It's trying to think about that broadly, about 'what does it take to make art relevant in part of the everyday lives of people from all walks of life, not just  a small, elite, well-educated group of people?'
That was  a fascinating way to begin the project. We also hired Wolf Olins as a branding agency. We approached it as a very classic brand project, we went through and created the strategy and examined identity by doing a real thorough audit of all materials and communications, and then audited the the digital experience as well as the live experience. That's why we bought in the cultural anthropologist, we really wanted to make sure we understood that.
We created a strategy from that, and a brand identity of both visual and verbal identity. We also created, brand experience guidelines, all of that with the intention of launching the overall rebranding of The Met in March of 2016.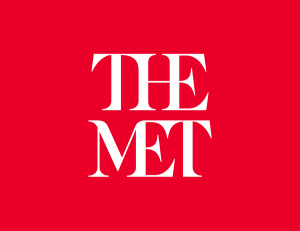 M: Did the research uncover anything that was surprising or changed the way you, or the industry, viewed how people interact with and experience art museums?
CR: A couple of things. This was a bit in the backdrop of a study for the National Endowments for the Arts in the US, that indicated that museum visitation was declining. About a decade ago, one in four Americans had visited a museum in the last year. In their most recent study, it had fallen to one in five. Even though The Met visitation was still strong, and was actually growing year-to-year, there was a decline of people going to art museums. 
Part of what we were looking at was trying to understand how art fits into people's lives, and The Met specifically. 
Two really important things drove our brand project. One was – something we already knew from our data – that about a third of the people who walk into the museum are first time visitors. They've never been there before. That number grows to 50% of people who haven't been there in a very long time. In talking with folks, we learned that people at The Met often feel overwhelmed, by not just the size and scope of the buildings and how much art there is to take in, but also all of the tours and activities happening in the galleries.
We heard a lot that people feel overwhelmed but underinformed. That was a really key piece of information for us as we tried to simplify and create a more coherent experience, and to handle and manage communication that was communicating to people just the right amount of information they needed, when they needed it, and to try and help ease that, make it a far more welcoming and friendly place.
That wasn't very surprising, but the other one that did surprise us a bit, although it verified the whole project, was that only 45% of people who visited recently agreed with the statement that  The Met was 'for people like them'. It did suggest that the museum really had work to do in making people truly feel welcome and making art accessible to them.
So, those were two important things that drove the project.

M: Was the rebrand a response to that?
CR: It was, although as I said we already had an expectation that we needed to articulate a brand strategy. This was to guide how we would do that. We'd already made the commitment to do the project, but that's part of what we learned along the way.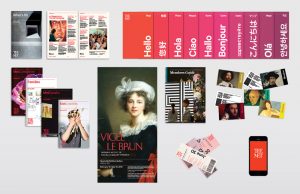 M: What was the brief like?
CR: The objective was to increase reach to a more diverse and broader audience, and to make sure we were relevant to them and the next generation. It was about reach and relevance. It was to simplify and create greater clarity in the communications and in the experience, both physically and digitally.
We have six million people visiting the museum annually, but we also have more than 30 million visiting the website, from all over the world. And so, the idea that people feel overwhelmed and a bit underinformed, was even true of the website, and the web experience.
It was about about wanting to expand reach and relevance, and also trying to create greater coherence, clarity and consistency around how we presented and articulated the brand.
That was really the brief to us all. All of that in the context of 'oh, and by the way we're about to open a third museum, that's going to be dedicated to modern and contemporary art, through the lens of art history, and we need to present that to the world and integrate the idea of that into the total Met brand'.
We didn't want these to be a separate museum – there is The Met brand, it is three physical locations, it is also the fourth location which is the digital one, the website online. We want to present that as a coherent whole.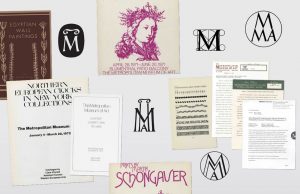 M: So it involved a whole system of brand elements to communicate a lot of information?
CR: Exactly. All of that is brand identity, and it extends into signage, environment in the entry way, and thinking about the experience as people go through.
As part of the project, we ended up hiring consultants, Applied Wayfinding, out of London, who have great experience in navigation. As people sometimes felt a bit overwhelmed in the museum, part of our project to create a more welcoming, easy to navigate experience was to think about how we're doing signage, how we're communicating to people, how we're giving them maps, even the mapping itself. We hired folks who were really very good at wayfinding. They did Heathrow Airport, for example, and they do massively complicated things like shopping malls and airports.
We were their first museum project. The Met is really 21 different buildings put together. It can be hard. It's not just that there's a lot of art. It can be complicated to try to follow the map and find your way through. We wanted to simplify all of that, because we felt that this was part of making the museum open and reachable to a broader public. We didn't want it to be a place that was intimidating.
People that aren't used to spending time in art museums, we wanted to make them feel very comfortable, and make it feel as easy as possible. Remembering that we were carefully controlling the launch timing to coincide with the opening of the Met Breuer. Part of the project was around naming and nomenclature, because we had to decide what we would name this museum.
A very important part of this identity, and one of the most important early strategic decisions, was to go with the common use name 'The Met'. Even though the Metropolitan Museum of Art remains the formal legal name, and it is still used and will appear on information and contracts and communication, we decided that we would brand around the more friendly name, the nickname The Met.
What had been the Cloisters Gardens of the Metropolitan Museum of art, we renamed The Met Cloisters, and The Met Fifth Avenue as the main building, and the Met Breuer. So that we could try and unify all of them.
* * * * *
The latest issue of Marketing explores identity, branding, targeting and the marketing profession itself. Purchase a copy from our online store
* * * * *