Hudson Sales, Marketing and Communications 2012 Salary Guide
This guide is featured in the February 2012 issue of Marketing magazine, available here, and including an extended recruitment feature. Data comes courtesy of Hudson Salary Survey.
Employee optimism in the sales, marketing and communications profession is rising as digital marketing skills increase in demand. According to the results of the latest Hudson 'Sales, Marketing and Communications 2012 Salary Guide' survey of 5563 clients and 5650 candidates Australia-wide, there is growing pressure on digital and online marketing salaries, as the need for these skills intensifies and competition to attract talent grows, nationally.
Over the coming year, there will be a greater amount of digital roles advertised as more organisations bring their digital and specialist marketing functions in-house as opposed to utilising outside creative/marketing agencies. Rather than seeing new marketing skills emerge, the desire for digital and social media roles is broadening, particularly as print media is becoming less dominant and publications and companies increasingly go online. Qualified and experienced candidates are driving the market and are able to command higher salaries as roles become more specialised. As a result, there are new titles emerging such as digital campaign manager, social media manager and roles in search engine optimisation.
"This increased demand for digital skills is translating into higher wages," says Amy Yates, national practice director, sales marketing and communications, Hudson. "Salaries are closely tied to skill level and in a bid to attract and retain the most qualified candidates, organisations are increasing their non-financial benefits in overall packages including work/life balance schemes and car allowances. Employers have to compete for staff, and specialised candidates are once again able to have some bargaining power when it comes to their wages."
The Hudson Survey found that salaries for more generalist marketers, those without specialist skills have not fared as well, remaining consistent over the year. As interest has moved to candidates with specialised skills sets, those with generalist skills, are now more flexible when it comes to remuneration and have turned their focus to career development and progression. In a bid to secure the 'right' candidate, hiring managers are more sophisticated in their approach to recruitment and are utilising tools and techniques to ensure they find the best people to fill new roles.
While those marketers with digital and social media expertise are increasingly in demand across the board, those with broad traditional marketing experience are increasingly being sought in the growth industries, namely mining, oil and gas in Western Australia and Queensland, insurance and consulting in Victoria and financial services, particularly product managers and wealth management, in NSW.
Nationally, most hiring managers are paying market rate for the roles they are recruiting due to a shortage of talent in the market. Strong candidates in high demand are receiving several offers from organisations and so are able to command higher paying roles.
The current employment landscape is complex and there is increasing pressure on organisations to find the right people to fill particular roles. The cost of a bad hire can be enormous, not just to productivity but also to employee engagement, staff morale, and wasted resources and investment throughout the recruitment process.
Period: April-June 2011
Anticipated permanent cross-discipline headcount growth: 32.9%
Anticipated permanent headcount growth in sales, marketing and communications: 36%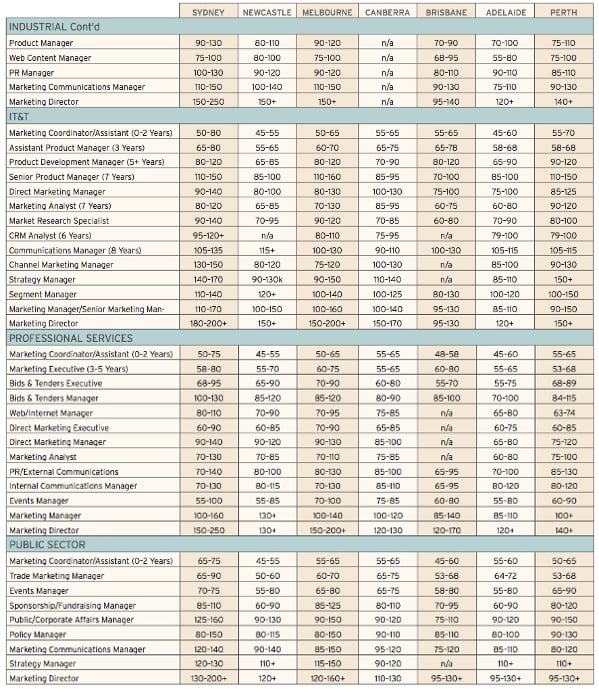 *All figures exclude superannuation, bonuses and share options.