Hungry Jacks' minis a repackaging success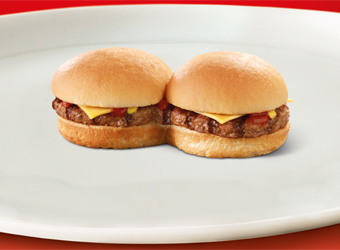 Repackaging a product can give it new life, as Hungry Jack's has discovered with the recent launch of its mini cheeseburgers.
The burgers, which are exactly half the size of normal cheeseburger and come in twin packs, have been so successful Hungry Jacks is looking at expanding the concept to other offerings.
National marketing director at Hungry Jack's, Jim Wilson, says the new miniature cheeseburgers are proving just as successful in the market as they did in product trials, which were the most positive the burger kings had conducted in recent times.
"Given its success to date, we're already looking into the possibility of offering additional varieties including a chicken mini," Wilson says.
The miniature variation was introduced as part of Hungry Jacks' campaign to 'make it better' by broadening its menu and improving the menu's nutritional make-up.
"Minis were introduced by our counterparts, Burger King, in the US a few years back in packages of six, eight and 12," Wilson explains, adding that there was no intention of introducing portions of that size to the Australian market.
Several product variations, including mini cheeseburgers in quantities of fours and sixes, were considered in product trials but the twin mini proved to be the most popular, particularly among women and customers looking for smaller serving sizes.