Ingogo creates world's worst call centre to show why apps are better
Taxi booking app Ingogo has launched a cheeky campaign that highlights the hassles of booking a taxi over the phone. The campaign directs people to call a phone number which subjects them to sarcastic on-hold messaging highlighting the benefits of the app.
The on-hold message tells customers to "just stay on the line for a little while longer" until someone with a smartphone can use the app to book their taxi for them.
1300 INGOGO is "the number to call when you need a taxi but don't have the free Ingogo app yet".
"Still waiting? If you haven't yet downloaded the Ingogo app, you're in the right place. the perfect place to simply use the phone part of your smartphone, without using any of the pesky smart functions, and pesky information super-highway such-and-suches," the hold message teases.
"While you wait, here's a fun fact. Alexander Graham Bell invented the telephone in 1876 and it's that same technology you're using right now in your hand as you wait on hold."
App operator "Beryl" assures passengers on hold that she will use the app to help them book a taxi very soon: "Don't worry, I'll be with you shortly, dear. How do I put this back on hold? Mavis, can you help me with this dear?"
Currently running across outdoor, digital and radio in Sydney, the campaign aims to convert the 88% of the city's residents who do not currently use apps to book taxis.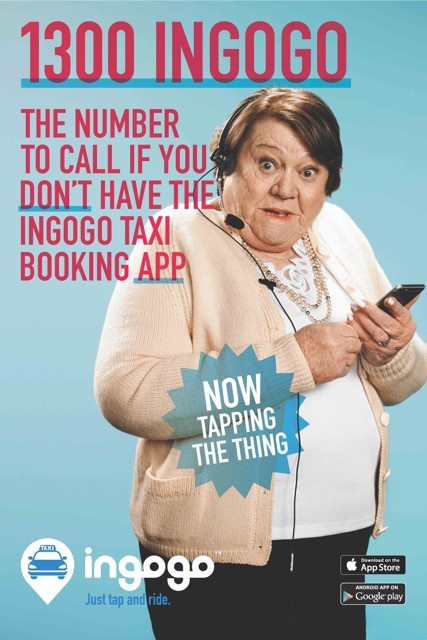 Similar in user interface to the controversial Uber, the Ingogo app works with licensed taxi operators to allow customers to book and pay for taxis, including allowing passengers to text or call their driver and view their location and estimated arrival time.
It currently operates in Sydney and Melbourne, and has recently launched in Brisbane, Perth and Adelaide.
Ingogo CMO Jeff Lim says the company's first ever major advertising initiative aims to cut through the clutter and reflect its values as a high-growth tech player.
"One of the major hurdles is the adoption of technology by consumers that might not be as tech savvy, and we wanted to get their attention, and educate them. It's a cheeky nod towards those who are still using old school methods to book a taxi by calling up over the phone."
A series of videos on the Ingogo website and social channels also explain the app's features.
The campaign was developed by creative agency Special Group, with Match Media as the media agency and Launch Group supporting on PR and communications.