Inside Budget Direct's creation of Captain Risky: uninsurable brand mascot is a content goldmine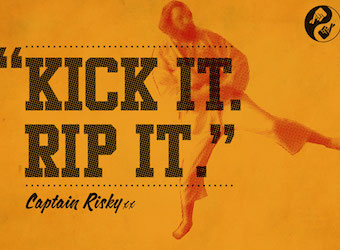 Insurance brand Budget Direct launched its brand in a completely new direction this week, introducing daredevil brand character Captain Risky. Marketing spoke with the brand and its agency about why it's changing and the Captain's role.
Captain Risky, who performs ambitious stunts terribly, acts as the premise for Budget Direct's proposition that it can give customers lower premiums because it doesn't insure high-risk people.
Launching this week as a campaign, Captain Risky is not only a campaign but a source of digital content and brand personality along the lines of Old Spice Guy. His own website at CaptainRisky.com.au injects some personality into the insurance sector. Budget Direct's previous campaign, starring animated aliens were themselves intended to step away from, "an insurance market saturated with uninspiring, lifestyle imagery," the brand said at the time. Captain Risky is taking it to a whole other level.
While the alien campaign coincided with a rebrand by Hulsbosch, all campaign development until now was coordinated in-house, utiliseing external partners for production. Captain Risky came from Budget Direct's first work with advertising agency 303 Lowe.
Since debuting on television last weekend, Captain Risky's Facebook page – which wasn't mentioned in the TVCs – has attracted 3669 likes. (Twitter, Instagram and Google Plus are still getting off the ground.) His website has a newsletter, videos and downloadable posters of his (fictional) previous escapades.
Marketing spoke to Jonathan Kerr, director of marketing and digital at Budget Direct, and Jon Mckie, strategy planning director at 303 Lowe, about the reasons for changing the brand's direction now and their intentions for Captain Risky as an engagement platform.
Marketing: What was behind the decision to change directions for the brand now?
Jonathan Kerr: It was an interesting time for us because 2014 was a year of great growth for us, and that was during a period when we were running the aliens campaign. That also gave us the opportunity to review what was working and what was not delivering for us.
Ultimately, we decided [the previous campaign] wasn't doing a good enough job of communicating why Budget Direct is different and better. It was a very good vehicle for people remembering the ad and who the advertiser was, delivering our offers, but we didn't feel like it was moving the brand along like we felt it needed to. That created the decision to put the advertising account out to pitch.
Because we were going really well we had the benefit of time to go into a full pitch process and then appoint what we felt was the best agency with the best creative idea. It was really all about bouncing on from the success we had and trying to get even more successful. We fundamentally believed that once more Australians understand why we're different then the growth will be even greater.
M: What was the decision process like, given the previous work was successful, to change dramatically, which always comes with some risk?
JK: Budget Direct's product offering is now getting a lot broader – it's now motor, home and contents, travel, life, health – and we felt that we absolutely needed to appoint an agency to help us really maximise the potential of all of that. We were definitely going down the road of finding an advertising partner. The process for us was two things: the people we were going to work with, and the creative they were going to come up with. When we saw this creative presented to us we were already very excited about what we felt it could do with us, but then we spent a lot of time researching it to make sure the proposition it was going to put into market and the nature of the character and creative would resonate well for us. So there was a significant investment in research before we pushed the button, so to speak.
M: How would you some up the brand proposition and the direction it's going now?
JK: The tagline in the ad is that we don't insure Captain Risky to keep prices low, but the ultimate core communication is that Budget Direct will not allow its customers to subsidise higher risk customers.
You only pay for your own insurance at budget direct, and that manifests itself in our smart selection of people. By saying no to bad drivers, higher risk takers and risky circumstances we're able to pass on significant savings to people and give them award-winning cover at the same time. The proposition is that Budget Direct is really smart with how they insure and for the vast majority of people they see the benefit in price and service.
Jon Mckie: The tagline for the brand has always been 'Simply smarter insurance'. This new campaign is to explain the 'smarter'.
JK: We are very price attractive to your average low risk person. We don't insure cars that are worth over 150 grand, we don't insure [high-performance cars such as] WRXs or Evos or most FPVs or HSVs, we don't insure some performance modifications, the stuff that the average person would never put on their car. You can imagine that if you insure that type of thing, which is the minority not the majority, if they have crashes they cost an awful lot to repair and so if you don't ever include that in your book of insurance you can make sure that people only pay the right price for their own insurance and don't have to cross-subsidise others.
M: Was the ongoing content aspect – CaptainRisky.com.au, email newsletters and regular videos – a key part going into this project that you knew you needed to have? 
JK: When you've got a big story to get out there broadcast television is always going to play a big role, but the thing is what it does is create a lot of assets for you. I don't think anybody in this team was thinking we're just making TV ads.
Everything is shot for digital now, it just so happens that the big reach method is television, but you've only got so much time to develop a story in the television medium.
In other media the character can interact live and post bits and pieces and really reveal the character for what he is. [That's] the opportunity you get with this type of creative.
JM: The aspiration has to be that the campaign takes on a life of its own. It's a very high ambition to have, but if you take that great campaign with Sam Kekovich for lamb, or you take the even bigger campaign for Old Spice, the amount of content available gets a much higher reach domestically and globally thanks to people interested in the backstory of the characters. Our aspiration would be that if we can get even a little bit of that it'd be great.