Is that baby twerking? Vodafone's new TVC features babies heads on adults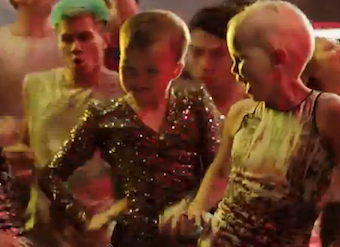 Vodafone has launched a new campaign, with the core TVC execution introducing the 'Kidult' – a creative treatment that characterises adults who embrace their inner child.
The ad features baby heads superimposed onto adult bodies, with one scenario featuring a group of women (with baby heads) dancing at a nightclub.
Ogilvy and Mather Sydney is behind the new campaign which Vodafone is calling, "a significant return to brave, fun and youthful positioning for Vodafone, and is part of a far-reaching refresh of its overall brand."
"The 'Kidult' creative is bringing the brand back to its customers' attitudes. They're people who look at the world in a different way, as though seeing it for the first time," says general manager of Ogilvy and Mather Sydney, Nathan Quailey.
"It is deliberately different to the rest of the category, to capture the attention of consumers out there who relate to being adventurous, optimistic and cheeky. People who may currently be with another mobile provider but find they don't 'fit' with the brand," he says.
Ogilvy's chief creative officer Steve Back confirmed the creative was designed to "grab people's attention and reappraise the brand."
"The 'Kidult' campaign deliberately sets a new course for the brand, one that is bold and confident and reflects the positive changes at Vodafone," he explains.
The TVCs are part of a broader, multimillion dollar brand campaign which began rolling out in Australia last week, which asks consumers to 'Discover the New' Vodafone. More than 50 billboards have already been launched with press and outdoor furniture instalments to come, also developed by Ogilvy Sydney.
Vodafone's general manager, brand and communications, Jana Kotatko says it was hoped 'Kidults' would grab the attention of Australian consumers and encourage them reassess Vodafone and see what's changed.
"We wanted to powerfully land the message 'this is a new Vodafone'. With lightning-fast 4G, 40% more coverage across Australia, launch of our highly competitive Red plans and market-leading $5 global roaming offer, this is more than an advertising campaign – it's a signal that we've changed the way we do business and what we offer to our customers," she says.