Ita hangs out on Google+ to promote new book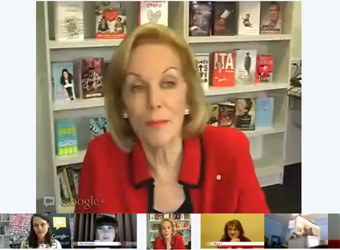 Back on the campaign trail for her latest autobiography, Ita Buttrose gets down and jiggy with the kids at Google+ in this Hangout promoting A Passionate Life and Play, Google's one stop shop for music, books, magazines, movies, TV shows, apps and games.
Lucinda Barlow, head of marketing for Google ANZ, introduces Ita and leads a panel of women in asking questions to the media personality. Buttrose discusses women in business and the challenges women face in society, with input from her fans on the panel.
For those who haven't used Hangouts, the video is an insight into the video chat platform and the openness of early adopting users of video meet-up platforms, which are starting to proliferate across the internet. Kondoot, a complete social network built around video broadcast built by a group based in Brisbane, and Airtime, which uses Facebook to connect you with people with similar likes (see video below), are other examples of video chat as a leisure pursuit in action.
If you can't see the videos below, please refresh this page.