It's beginning to look a lot like Christmas with Clems and Myer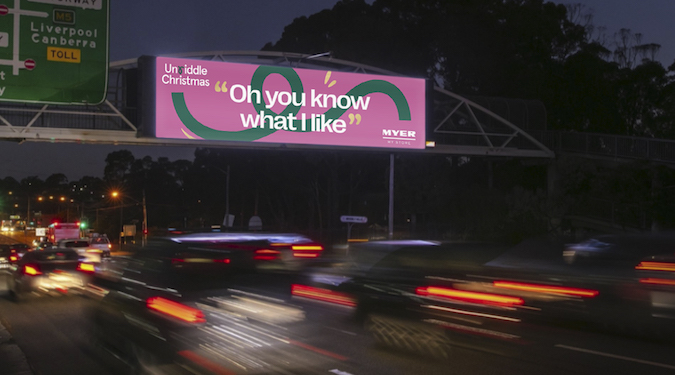 It may be only the start of November, but Christmas is just around the corner. Australian retail giant Myer has released its festive campaign.
Tackling the annual issue of vague requests, Myer and Clemengers have the solution. With many put on the spot when asked what they'd like for Christmas, Myer's campaign is that it has the perfect gift for anyone. 
The campaign 'Unriddled Christmas' is made up of three 15-second shorts and a complete 60-second spot. Taking the Christmas carol Joy to the World and reinterpreting it, the campaign lists all the different responses to the age-old question 'what do you want for Christmas?' with a range of possible common answers, 'I'm not really sure', 'surprise me', 'whatever, I'm easy'. 
Talking about the campaign, Clemenger BBDO Melbourne senior creatives Ellie Dunn and Huei Yin Wong say, "We can all relate to giving and getting those annoyingly vague responses at Christmas. But one thing's for sure, it's been a joy to reimagine this classic tune. We hope this spot inspires some loud and proud Christmas carol singing. And, of course, helps Australia 'Unriddle Christmas' and turn those unhelpful hints into wonderful gifts."
The campaign was launched on 8 November, and will run on TVCs and billboards across the country.