James Boag targets the wine list with beers designed for fine dining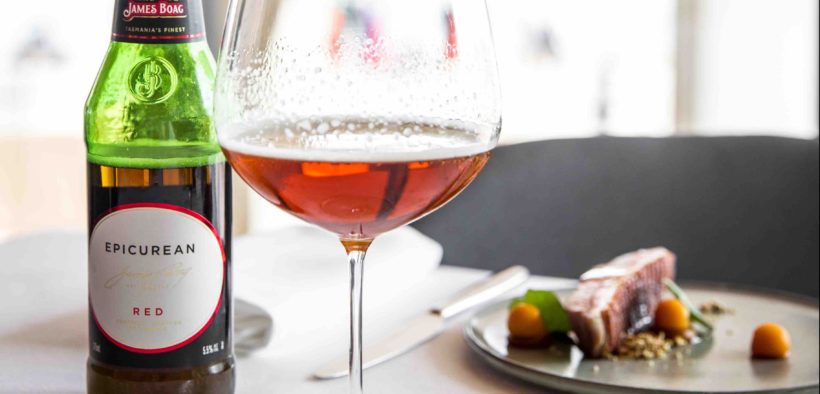 James Boag releases limited-edition Epicurean range, claiming Australian-first beer offering for fine dining.
When it comes to fine dining, beer has never really been considered a drink of choice to pair with food. James Boag's newest range,  however, aims to challenge that perception and provide high-end restaurant guests with an alternative to wine.
Inspired by Tasmania's famed epicurean culture, the new James Boag Epicurean range is a collaboration between renowned chef and owner of Aria Matt Moran, sommelier Matt Dunne and head innovation brewer Simon Hanley and features two varieties: James Boag Epicurean RED and James Boag Epicurean WHITE; both designed to be partnered with fine-dining cuisine.
The company is brewing a single batch of each and a key to the creation process, Moran says, was that the collaboration was approached "with food and culinary experience top of mind." The beers' distinctive ingredients such as Helga and Enigma hops are sourced from Tasmania and take into account the flavour profiles of the food they're meant to match.
"We've specifically designed two unique beers to match the full characteristics and textures of red meat dishes, alongside the lighter and crisp notes of seafood," Moran says.
James Boag Epicurean RED is described as being "exquisitely bold, it delights the palate with malted barley, caramel and toasted notes, and a unique bronze-amber-red colour. The specialty malts selected to give a rounded, fuller mouth feel and pairs very well with red meat dishes, such as wood oven roasted standing ribs or a shoulder of lamb with caramelised onion."
In contrast, the company says the floral and fruity aroma and notes of the WHITE make a perfect match for lighter dishes, evoking images of "charcoal-barbecued fresh seafood such as Moreton Bay bug, lobster or Tasmanian trout". Brewed with Tasmanian Enigma hops, and Tasmanian Super Pride hops for bittering, it is designed to be refreshing and dry and acts as a palate cleanser in between bites.
Dunne, who is also the group sommelier for Solotel venues, explains that every finest detail is examined to ensure a premium experience with each sip. "In authentic premium restaurant style both are served in wine glasses to allow for the full range of aromas and flavours to be best received," he says.
It will be exciting to see how the Epicurean range evolves gastronomical experiences, adds James Boag head innovation brewer Hanley. "Working with experts in the Australian food sphere, such as Matt Moran and Matt Dunne, allowed us to bring the unique characteristics and finest quality Tasmanian ingredients together in a way that's not been explored until now," he says.
James Boag Epicurean is launching for a limited three-month availability in a selection of hatted restaurants across Sydney, Melbourne, Brisbane and Tasmania.
See the video below to follow Moran, Dunne and Hanley as they create the new beers.