Jerry Seinfeld on the power of online video for content creators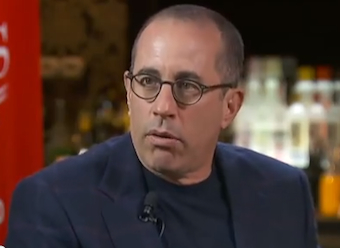 Comedian Jerry Seinfeld has spoken about the role the internet has had on society and online video's potential for content creators in a 'BuzzFeed Brews' interview with business editor Peter Lauria.
Seinfeld is the creator of the hit internet show, Comedians in Cars Getting Coffee, which has just exceeded 25 million streams on US online video distributor site Crackle and was featured during the half-time of the Super Bowl with a mini Seinfeld reunion episode.
Seinfeld's explains in the 40-minute video how the internet is providing new opportunities for the way content is being created, "I think the network medium of the internet offers opportunities that are more unique than have even existed before. When I did the TV series, I knew that once we got the OK, I know I'm making 22 minutes, I know there is a commercial in the middle, I know how many sets I have to tell my story on. When you go onto the internet, nobody knows anything. There are no rules so we were able to invent almost every aspect of this concept with nothing to compare it to," he says.
"Network TV seems smaller. Why would I put a show on a big heavy rectangle in your house, when I can put it in your pocket? I would much rather put it in your pocket."
"The internet is a bigger change in life… than cars, planes, radio, TV… in terms of the social, human, behavioural dynamic."
Seinfeld speaks about video viewing from the 8:17 mark for around nine minutes. Take a look: