Jetstar shows off new Dreamliner in interactive shopping centre installations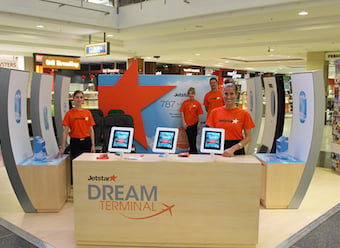 Jestar is launching 'Dream Terminals' in shopping centres around the country. Brand experience agency, Urban, is behind the terminals which are built around the Jetstar Dreamliner's promise of the 'most advanced in-flight experience in Australian skies'. The Jetstar Dream Terminal uses sensory cues to bring to life the aircraft's key innovations including dimmable windows, more comfortable seating and a smoother ride.
The terminals feature NFC-enabled wristbands that allow guests to share their experience online, trigger free offers, print customised boarding passes and create a personalised photo of their favourite Dreamliner destination.
Urban group business director Trish McNamara says, "We couldn't be more excited to work with Jetstar and deliver a campaign that plays so strongly to our core strengths.  The new Jetstar Dreamliner comes with so many truly innovative features that all translate very well to a live customer experience."