Julia and Tony share passionate kiss at Parliament House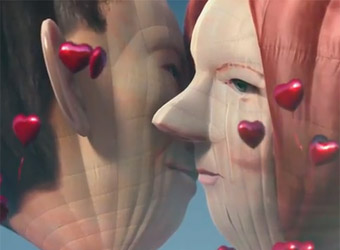 Prime Minister Julia Gillard and opposition leader Tony Abbott lock lips as they float high above Parliament House in the latest tongue-in-cheek ad from Meat and Livestock Australia.
'Happy Beefgiving', created for MLA by agency BMF, features two flying kitchens lifted above Parliament House in Canberra by hot air balloons in the shape of the two party leaders. At the end of the ad, the faces on the balloons lock lips to deliver the message that a little beef can warm up winter, and your relationships.
The campaign calls the cold months 'Beefgiving Season' with 'Beefgiving Day' set for July 14 to encourage households to share some beef on the coldest day of the year.