Lonely Planet's 40th anniversary trade campaign
Campaign: Lonely Planet 40th anniversary campaign
Client: Lonely Planet
Agency: E2
Background
Starting with a beat-up old car, a few dollars in the pocket and a sense of adventure, Lonely Planet began in 1973 with a stapled and typed guide that Tony and Maureen Wheeler collated of their travels across Asia. Forty years later, Lonely Planet is the world's leading guidebook publisher with more than 500 titles across 15 languages, providing travel advice and inspiration through books, web, mobile, TV, magazines and social networks.
In the year of its 40th anniversary Lonely Planet wanted to convey to readers that
it is more relevant than ever and reiterate the brand's strength amid growth of other travel blogs and websites. The company saw a great need to celebrate the last 40 years of providing trusted content to its readers, promoting awareness of Lonely Planet as the top global guidebook publisher and as an opportunity to celebrate and inspire travel.
The Lonely Planet brand maintains a broad appeal by speaking to anyone that has a desire to experience the world. In November 2012 Lonely Planet achieved 70% share of the travel guide category and overall its share is now at a three-year high. Despite non- fiction experiencing an 8% volume decline across the board, Lonely Planet achieved a 4% growth in October, resulting in Lonely Planet outperforming the entire non-fiction category by 13%.
However, having to increasingly compete with emerging online sources, this year's campaign was to remind readers that Lonely Planet is authentic (because its writers have experienced the adventure) and it has the tools and knowledge to empower readers to experience the world. In the year of its 40th anniversary, Lonely Planet reached out to E2 to develop a major marketing campaign to celebrate 40 years of the brand and to reiterate its relevance to travellers and to the travel industry.
Objectives
E2 was tasked with developing a campaign that could speak to Lonely Planet's two consumer markets: the retail stakeholder and the traveller.
The objectives were to:
promote awareness of Lonely Planet as the global number one guidebook publisher,
drive consumers in-store to purchase,
Lonely Planet books position Lonely Planet as more than just a travel guide publisher (Lonely Planet also publishes books),
to inspire travel, such as pictorials, children's titles and travel literature, and encourage and inspire future travel and deeper relations with the brand across multiple platforms.
Strategy
E2's strategy engaged travellers, asking them to reflect on their favourite travel moments over the last 40 years. The idea was to collate and select 'hero' personal travel stories that could be utilised across different trade and consumer campaigns.
The travel stories assisted in building unique and personal narratives across retail networks through a brand campaign spanning online and in-store. They were to be utilised at the point of sale to drive customers in-store and to encourage them to enter their own personal travel stories via the microsite.
E2's strategy of developing personalised branding meant that entrants and staff were able to customise narratives with their own personal travel stories, extending the brand footprint through people carrying the Lonely Planet message. The campaign enabled wider engagement and social sharing with family and friends on Facebook, strengthening the in-store retail campaign. Customers were taken on a journey and, as a result, travel was top of mind.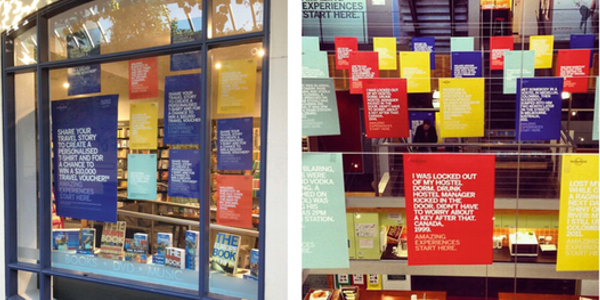 Execution
Rolled out from May 2013 as part of Lonely Planet's 40th anniversary, the dynamic integrated campaign captured the heart and soul of the brand through the idea of encouraging consumers to celebrate and share their personal travel experiences over the past 40 years. Entrants were encouraged to submit travel stories online through lonelyplanet.com/shareyourtravelstory/au, as well as being given the opportunity to create their own customised t-shirt for free and enter a draw to win $10,000 travel money. Supported by a guerrilla execution using travel stories as content and branded communications in-store, a colourful and measurable narrative developed across retail networks and in above-the- line channels.
Retailers also participated in the campaign through visual merchandising in their stores with point-of-sale material.
Results
Following internal presentations, Lonely Planet offices in Asia, the United Kingdom and the United States also carried out E2's campaign. More than 600 retailers participated in the promotion in Australia and more than 200 retailers in New Zealand.
The trade campaign saw:
retailers, including Dymocks, Myer, ABC Books, Readings, Whitcoulls and Paper Plus, purchase point- of-sale packs to promote the competition,
sell-in: a 49% increase in volume of units sold and a 29% increase in value of units sold in Australia,
sell-through: a 10% increase in volume of units sold and a 4% increase in value of units sold, and
engagement with the microsite for an average of 6.4 minutes.