Malaysia Airlines ousts Garuda Indonesia as official global airline partner of Liverpool FC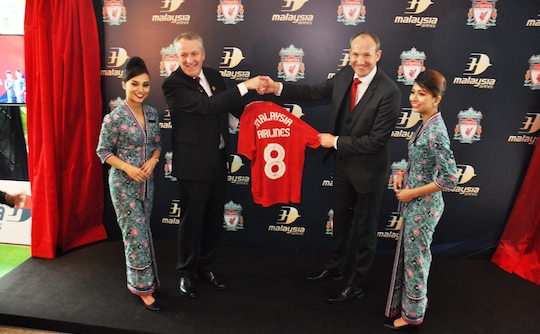 Malaysia Airlines has signed on as the official global airline partner of Liverpool Football Club.
Malaysia Airlines Berhad struck a deal with Liverpool FC to become its official global airline partner.
The partnership will see LED and static board brand exposure at Liverpool home games, exposure on the Liverpool FC website, publications and Facebook page, besides cobranding opportunities in merchandising rights and customer engagement via experiential assets.
The airline will also have access to players as brand ambassadors.
In a press release, Malaysia Airlines predicts the sponsorship will help them reach the English Premier League side's international audience of over one billion.
This is especially important in key markets such as China, where the side has "around 40 million followers."
"Liverpool FC is one of of the most followed clubs in the world, including around 100 million in South East Asia and 40 million in China, our key markets. Additionally, the partnership will go a long way in increasing awareness of Malaysia, as a tourist destination, to a huge global audience," says Peter Bellew, Malaysia Airlines CEO.
Billy Hogan, chief commercial officer at Liverpool FC says "when we visited Malaysia on our pre-season tour in 2011 and 2015, the reception was incredible. The partnership is a reflection of this bond and we are very much looking forward to a bright future working with Malaysia Airlines."
To celebrate the new deal, the airline is offering special sales on flights between Kuala Lumpur and London, and Chinese cities and London.