Marketers outsource traditional before online marketing
The number of businesses outsourcing traditional marketing functions is expected to jump over the next 12 to 24 months from 9% currently to 21%, according to IBM's 'Australian Business Process Outsourcing (BPO) Research 2012′.
The report, built from a survey of 216 businesses, rates traditional marketing as the fourth most outsourced business process, ahead of digital marketing, which is currently outsourced by a surprisingly low 6% of businesses. Intention to outsource online  marketing over the next year or two is also lower than for traditional, with only 17% anticipating that they will seek external providers.
The greatest share of business for traditional marketing service providers came from the telecommunications and transport industries, with 33% and 31% of businesses in these sectors outsourcing at least one marketing process. In the future, suppliers should look to government and education sectors as their primary sources of outsource business in the future.
Adoption and future adoption of traditional marketing outsourcing across sectors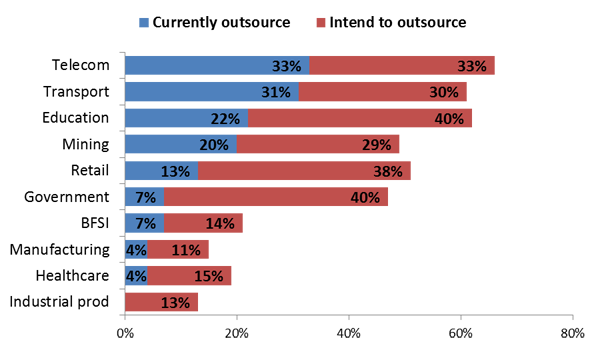 When it comes to online marketing, telecommunications and transport businesses are the highest current adopters of outsourcing, while, looking forward, telecommunications and banking, financial services and insurance (BFSI) will increase their outsourcing the most.
Adoption and future adoption of online marketing outsourcing across sectors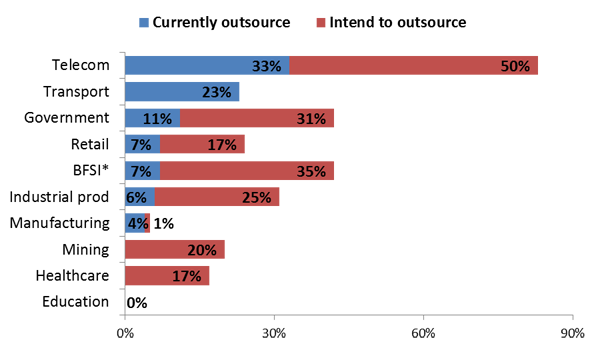 The BPO report goes on to break down a number of sub-processes for both traditional and online marketing. Market research is the most commonly outsourced traditional sub-process, with 74% outsourcing this function, and also ranks as the sub-process most likely to be outsourced in the future.
Currently 32% outsource content development and 16% outsource campaign management; both of which are expected to be outsourced by more than one in ten who are yet to do so. Customer service is outsourced by 11% of business currently, but a further 21% intend to in the next 12 to 24 months.
Adoption and future adoption of traditional marketing outsourcing by sub-process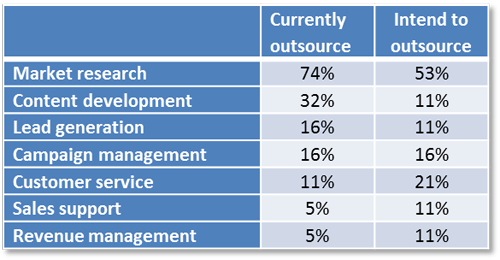 Digital marketing is an area where businesses are looking for support due the volume, velocity and variety of data that comes with the territory according to BPO CRM Leader for Growth Markets at IBM Australia, Peter Monk. "The data complexities around it are not something that organisations can or want to get their head into," Monk says. "They're saying it's simply not why they're in business."
Social media has been a great influence in driving usage outsourcing of online marketing according to the report. However, the online marketing sub-processes most commonly outsourced currently include multi-channel management at 50%, analytics at 29% and content management at 29%. In the future additional businesses are most likely to outsource content management (21%) and reporting (21%).
Adoption and future adoption of online marketing outsourcing by sub-process
The research also examined online marketing strategies, discovering that most organisations (59%) outsourcing the function have some sort of online marketing strategy. However, these still appear to be in their infancy, with only 7% of organisations that currently outsource online marketing having a constant engagement strategy, and 14% having an active use strategy. One in five do not have a strategy in place and a further 21% have a passive online presence.