MasterCard MasterPass: 'the future of digital payments'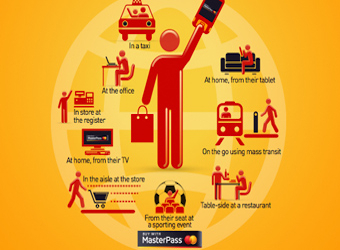 MasterCard has today announced MasterPass, a new digital wallet that enables users to purchase products with a bank card, or on their digital device.
With users able to choose from a number of pre-stored cards and shipping addresses stored within the digital wallet, the ultimate idea behind the MasterPass concept is to overturn lengthy manual upload issues by speeding up the payment process through an automated system.
"It's about convenience, accessibility and security," says MasterCard Australasia divisional president Eddie Grobler.
"With MasterPass, consumers can safely do their grocery shopping on the train on the way home from work, or make a last minute gift purchase on their lunch break, without the need to re-enter card and shipping details."
MasterPass comes on the back of recent news that other brands are delivering a similar service with Visa and Samsung forming an alliance to also tap into the digital wallet demand. Both Visa and MasterCard made their announcements at the Mobile World Congress currently underway in Barcelona.
There is also the Apple PassBook app released last year alongside iOS 6 to provide a all-in-one location for boarding passes and store cards, Airlines Virgin Australia and Qantas adopted the technology in September and November respectively, and Ticketek integrated its own PassBook support into a new iOS that launched in December.
As present, Westpac, Commonwealth Bank, NAB, ME Bank, JB Hi-Fi, AHL, Harvey Norman, Roses Only, Merchant Warrior and Paycorp are all currently working to integrate the MasterCard technology.
Availability of the service for merchants and users will roll out in Australia and Canada by the end of March, followed by the US and UK shortly after and further markets by the end of the year, including Belgium, Brazil, China, France, Italy, Netherlands, Singapore, Spain and Sweden.
From Macworld