Masters was never a threat say Roy Morgan's customer satisfaction scores, hindsight
Masters had lower customer satisfaction than Home Hardware, Bunnings and Mitre 10.
Masters Home Improvement enjoyed a slightly lower customer satisfaction store than its three big hardware competitors: Bunnings, Home and Mitre 10.
The monthly Roy Morgan results from October showed Home Hardware had the highest customer satisfaction score at 90%, followed by Bunnings and Mitre 10 on 89%, with Masters in fourth place on 85%.
Click to enlarge chart.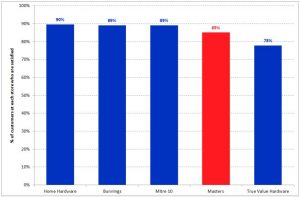 Chart: Roy Morgan Research
While October's lower score can probably be explained in part by the fact that Masters was in the middle of a closing down sale and reducing all stock levels and prices, it has been slightly lower than the other three in the customer satisfaction area for most of the last two years.
Click to enlarge chart.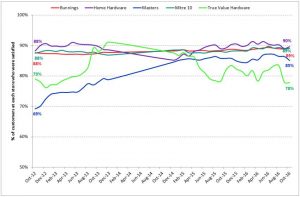 Chart: Roy Morgan Research
Since launching its closing down sales in August, visitation to Masters' stores increased from 1.8 million each month to 1.9 million.
"Now that Masters is gone, it will be interesting to see where its customers go. With almost 1.9 million Aussies per four weeks currently looking for another hardware store to shop at, this represents a golden opportunity for Bunnings, Mitre 10, Home Hardware and True Value to boost their customer base.
"Furthermore, if they provide better service to these shoppers than Masters once did, they might even improve their customer satisfaction scores," says Michele Levine, Roy Morgan Research CEO.
And it seems Home Timber & Hardware is well aware of its standing as top dog: Home trucks have recently appeared in the car parks of Masters stores with cheeky messaging.
Image: Reddit
Related stories: