McDonald's unveils very large Big Mac in Tamworth in tribute to farmers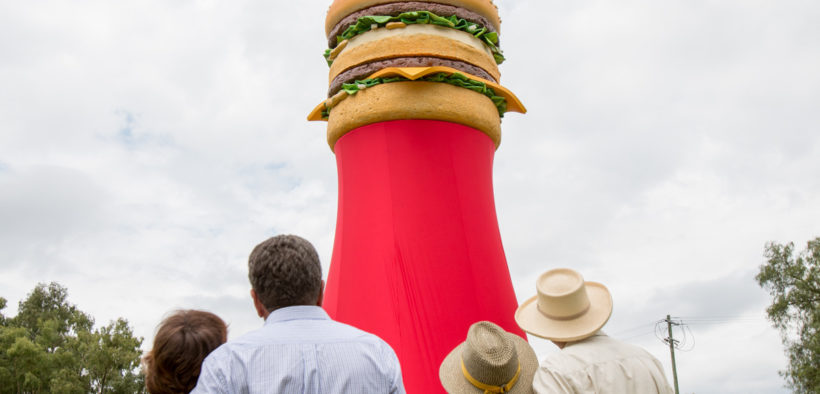 McDonald's has unveiled the big Down Under Big Mac in Tamworth, New South Wales.
To celebrate Australia Day and promote the 'Down Under' Big Mac, McDonald's Australia yesterday unveiled a Big Mac monument.
The eight-metre tall tribute was unveiled in Tamworth by region mayor Col Murray. It joins the Big Prawn, the Big Merino, the Big Banana, and other iconic Australian 'big' tourist attractions scattered throughout Australia.
The tower is intended as a tribute to Australia's farmers.
"With locally sourced beef, lettuce, pickles and wheat, it's our homegrown ingredients that help make the Big Mac an Aussie favourite," says Joe Feeney, director of marketing at McDonald's.
The 'Down Under Big Mac' is the name McDonald's has given to eating one's Big Mac upside-down. Yesterday it encouraged consumers nationwide to share snaps on social of themselves eating one in this fashion. At this point in time it's unclear whether the technique will catch on, but an Instagram search returns a paltry two uses of the hashtag.