McWhopper: McDonald's declines Burger King's proposed truce for Peace Day 2015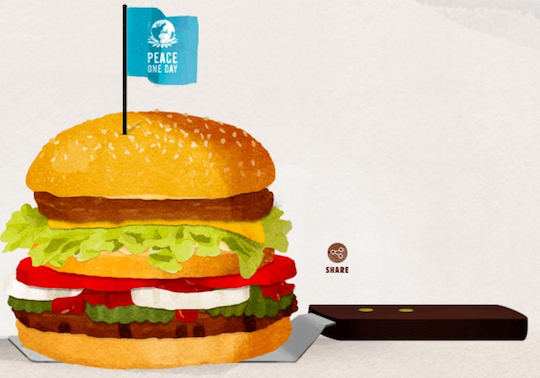 Burger King wanted to join forces with its rival McDonald's to create a 'McWhopper' – all in the name of world peace – but the market leader declined.
Burger King in the US launched a campaign inviting McDonald's USA to a 'ceasefire' for Peace Day 2015 on 21 September, proposing the two brands team up to create the ultimate burger combining ingredients from both brand's signature products.
Within hours, McDonald's CEO Steve Easterbrook declined the offer via Facebook, suggesting both brands "could do something bigger to make a difference".
"We commit to raise awareness worldwide, perhaps you'll join us in a meaningful global effort?
"And every day, let's acknowledge that between us there is simply a friendly business competition and certainly not the unequaled circumstances of the real pain and suffering of war," he wrote, before mocking Burger King's use of the elaborate PR stunt:
"A simple phone call will do next time".
Peace Day is a United Nations declared day of ceasefire and non-violence Burger King is collaborating with charity organisation Peace One Day, which aims to increase global awareness of this event.
Burger King proposed the two teams to "meet in the middle" of McDonald's headquarters in Chicago and Burger King's headquarters in Miami – in Atlanta. There, in "neutral territory", the two teams could join forces in a purpose-built restaurant.
Rather than paying with money, customers would declare their own "tray mat truces" in the name of world peace.
The proposed recipe included:
Six parts Big Mac
Top bun,
all beef patty,
special sauce,
cheese,
lettuce,
special sauce, and
middle bun.
Six parts Whopper
Tomato,
onion,
ketchup,
pickles,
flame-grilled patty, and
bottom bun.
Burger King signed off its proposal with:
"Everything in our proposal is up for discussion, from the name right through to the packaging The only thing we can't change is the date, so let's talk soon."
The plans may not be going ahead, but Burger King has certainly got itself a lot of publicity and attention.