Media Monday: Mobile drives newspaper readership, magazine industry set to combat oversupply issues
In Australian media news this week, mobile drives newspaper readership figures, the magazine industry is set to test newsagent oversupply problems, DAB+ listeners increase, Instagram launched video advertising, NITV secures exclusive rights to broadcast the Pacific Games and Sky News is named Channel of the Year at 2015 ASTRA Awards.
Mobile driving newspaper readership
The latest data from EMMA (Enhanced Media Metrics Australia) for the 12 months to January 2015 shows mobile has fuelled growth in total newspaper readership (up 1% to 16.3 million combined print and digital readers).
Mobile readership jumped to 2.8 million from 2.2 million (26% of the population).
The number of total digital readers increased 5% to 10.6 million (59% of the population).
Print still attracts the largest audience, with 14.4 million readers (81% of the population).
Total newspaper masthead readership: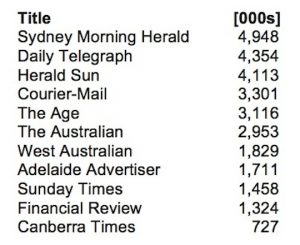 Weekend newspaper readership: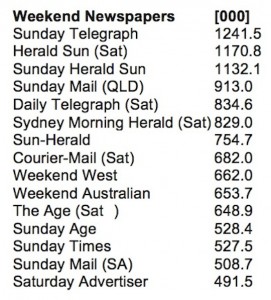 Weekday newspaper readership: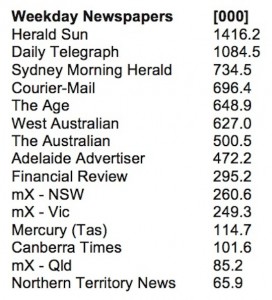 Magazine industry to test oversupply problems
The Australian Competition and Consumer Commission (ACCC) has proposed to allow the Association of Magazine Publishers of Australia (MPA) to run a pilot program to combat longstanding problems with oversupply of magazines to newsagents.
The ACCC is currently inviting submissions on its draft determination before making a final decision.
The pilot would run over three to six months with 20 newsagents, involving publisher members of the MPA and distributors Gordon & Gotch and Network Services.
The number of magazines supplied to newsagents would be limited by including minimum sales efficiencies, ceasing to distribute titles after an agreed number of consecutive nil sales, reducing requirements for full copy returns, and limiting redistributions.
Newsagents, mostly small businesses, have long experienced problems caused by the oversupply of magazines. Publishers tend to oversupply to avoid losing display space to competitors' titles, while distributors oversupply because they are paid per copy.
Newsagents are often required to accept less popular magazines in order to get the best-selling titles.
DAB+ listeners increase  
3.2 million people are now listening to digital radio each week using a DAB+ digital radio, according to data released by Commercial Radio Australia from the first survey for 2015.
The growing listenership is currently at 24.2% of people in the five state capitals where DAB+ is available.
Compared to listening to radio via streaming, 1.5 million more people listen to DAB+ and they listen for twice as long.
Instagram launches video advertising
McDonalds, L'Oreal, New Zealand Tourism and Qantas are the first brands to partner with Instagram on its new video ads.
The social platform will roll out its new video advertising in the coming weeks, showing video ads of between three and 15 seconds.
The move is the next step in Instagram's native advertising strategy it started rolling out last year in Australia.
READ: Qantas, Lenovo to launch Instagram advertising in next wave of chosen brands »
NITV secures exclusive rights to broadcast the Pacific Games
National Indigenous Television (NITV), part of the SBS network, will become the first ever Australian broadcaster of the Pacific Games.
The network will broadcast more than 90 hours of liver coverage of the competition from host city Port Moresby, Papua New Guinea, between 4 and 18 July.
This year's Pacific Games will include 4000 athletes from 24 neighbouring Pacific nations to compete in 28 different sports and disciplines.
Sky News named Channel of the Year at 2015 ASTRA Awards
The 2015 ASTRA Awards were held last week, with Sky News winning Channel of the Year.
The awards recognise quality in the Australian subscription television industry and are conducted by ASTRA, the body representing distribution platforms, content makers, affiliates and associates in the Australian subscription television industry.
Picking up the Channel of the Year award was Sky News. The top individual recognition was awarded to Brian Walsh, executive director of television at Foxtel.