Now available on demand: The B2B Lab, May 2014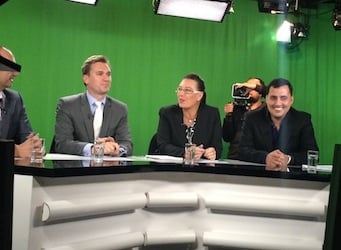 Yesterday's edition of The B2B Lab is now available to view on demand. If you didn't make the live webcast, or want to re-watch particular segments, you can view the whole show by clicking the link below and entering the email with which you registered. If you haven't previously registered you can still do so to view the show.
WATCH ON DEMAND: http://webcast.viostream.com/?viocast=7316&auth=8e474f60-4d02-4546-a0a3-d27bb0f1a63d
On this episode's esteemed panel of B2B marketer guests are new panellists from the legal and information industries, as well as a returning favourite:
Ben Healy, head of clients and marketing services at Clayton Utz
Farukh Mirza, solutions marketing manager, text and e-store, LexisNexis Pacific, and
Sonia Adams, president of APSMA and CMO at GHD.
About The B2B Lab: We put the guests at a desk and stream them live online here, you ask the questions. Follow The B2B Lab on Twitter, and use the hash tag #b2blablive to submit your questions to the panel. Alternately, submit questions and comments using the chat function in the webcast player.
One popular segment of the show is B2B Best & Worst, where the panellists give their verdict on B2B communications from around the world. In the show they critique these three videos. Tell us what you think, too.
Alpari – Sailing Lesson
Rolls Royce – A Cleaner Future for the Offshore Industry
http://youtu.be/b1HhzVHIxW8
Scania – Working in Scania´s global organisation
Tell us what you think of these videos, and submit your questions on anything to do with B2B marketing. The webcast will be live online tomorrow starting at 11am (AEST). Register now »