Mobile commerce taking off among smartphone owners
Google has release data on mobile commerce behaviour as well as other aspects of mobile phone usage, in a study that focusses solely on smartphones.
'Our Mobile Planet', conducted in quarter one of 2012, discovered that 28% of smartphone owners have purchased a product or service on their device, of which 60% had made a recent purchase.
Among mobile shoppers there exists a hard-core group of users who purchase from their mobile frequently: 8% do so daily and a further 10% on a weekly basis. Mixed payment methods are used, with 60% using PayPal, but 48% also using credit or debit cards. A select few opt for an invoice or to complete the transaction using a gift card or web payment.
The barriers to making a purchase were investigated among those that were yet to do so, revealing that 68% simply prefer their PC or laptop to buy online, 36% don't feel secure making the purchase on their device, 11% found it too complicated and 6% found the payment process specifically too complex.
Why have you not made a purchase using your smartphone?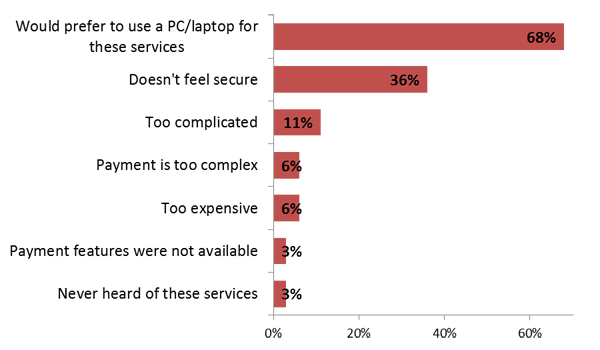 Looking forward, 28% expect to make more purchases via their smartphone in the next twelve months, 45% do not expect to start accessing mobile stores, and a further 27% were unsure how their mobile commerce behaviour would evolve.
The study was commissioned by Google and conducted by Ipsos MediaCT in partnership with the Mobile Marketing Association and the Interactive Advertising Bureau.