Most brands are socially inept
So you're hanging out with a bunch of friends at a bar and someone you don't know wanders over. They ingratiate their way into your group and start talking about themselves. What's your first reaction?
"Hi, Person We Don't Know, tell us all about yourself." Or, more likely, "Who are you and why on Earth should we care?"
Welcome to the challenge faced by brands as they struggle with being socially acceptable. Brands seem quite happy to talk about themselves and be self-seeking in a heavy-handed and awkward kind of manner. This is largely borne out of never having the need or incentive to build relationships with their customers before.
Most brands are socially inept
In the past, the world of brands has been one of 'react and measure' as new products and services are 'sold' at us. Brands are struggling to change this practice of decades to one of 'listen, learn and then engage'.
In the brave new world of social media people care most about a human connection with a brand, one that is real, not green-washed or good-washed, and certainly not a marketing message.
Think about the relationships you have. Why do you have them? Whether they are professional or personal, it's most likely because they add something to your life through love, attitude, knowledge, fun, personality or just because of the vibe.
Try to keep this in mind: Great minds talk about ideas. Average minds talk about things. Small minds talk about people and, unfortunately, there are those that just talk about themselves… which are most brands.
There's a place for marketing, but on social networks I think people reject being marketed to. They want to sound off, be heard, share their opinion, and communicate. It's a gentle task to handle which no matter how tech advanced we get, comes down to the basics. Attitude is everything.
Some brands should just not attempt social media because being social is not in their DNA. A true social media strategy (external) can only come from a social business culture (internal).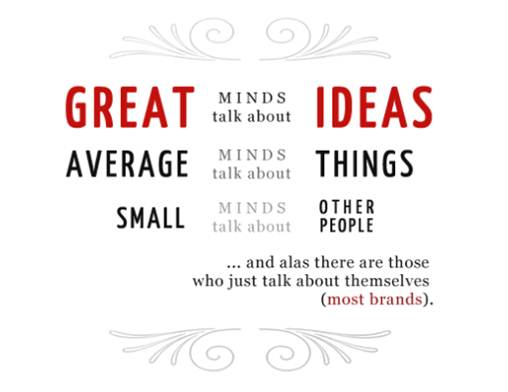 Don't lose sight of the basics
So why are brands finding it so tough to get their heads around this? I think it's because as they scramble to be seen as 'of the moment' it's easy to panic and lose sight of the social niceties.
Have you ever driven your car with no destination? Or had surgery before diagnosing a need? It's not the way you run a business. But that is exactly what it's like when you start a social media campaign without a strategy that ties to real customer and real business needs.
I accept that the value some brands can add to their customers' lives can be challenging on face value. The place to start is to think about the role your brand plays in your customers' lives, consider the human purpose of your brand and how that makes their lives better.
When you create channels first and get to strategy later, your 'social' approach is more likely to fail. By giving yourself no real direction or the ROI accountability of a strategy, your channel has a high probability of dying a very public death.
Social media channels cannot be tests
While there is the lowest barrier of entry to create these channels, they are still living, breathing examples of your company and its reputation. What you do on these channels matters and everyone should be responsible for how that is represented. I'm sure we'd be seeing more considered use of the tools if they weren't free to start. What if setting up a Facebook brand page cost $5000? Or $50,000? I'm sure we'd see more considered strategies deployed then.
Here's a look at some brands that get it, others who seem to be socially struggling and others who – to my mind – have a great opportunity but have no presence whatsoever.
Brands that get it
Asos (fashion) asos.com/au
They invite their customers to join the conversation to discover daily fashion news, competitions and sale alerts on Facebook and Twitter, plus, see which new trends are emerging on their street style blog, called Spotted. They encourage people to express their fashion personality to share outfits and inspire and they recently hosted their first Shopalong Google+ Hangout for people to throw questions at their US editor.
The Project (current affairs show) facebook.com/theprojecttv
Frequently receive contentious posts on their Facebook page, which they often address on the live program that night. A recent post from a teacher garnered a lot of likes and comments and resulted in an on-air interview with the teacher. (Here are their rules and regulations which manage expectations and rules of engagement.)
kikki.K (Swedish stationery) facebook.com/kikki.K.Swedish.Stationery
They add value by providing food for thought for journal writing, engaging with their consumers in addition to posting their new products. They help people to become organised, with style and empathy. They do a nice job on Pinterest too, which is the perfect tool to showcase their wares.
Socially Struggling
Car marques
It's all about them
Have a great opportunity but have no presence whatsoever
New home builders
They seem happy to pay premiums to be the first ad in new home magazines where budget is a key discriminator. Ironically, they build communities out of bricks and mortar but fail to see the social opportunity. First mover advantage to be had here.
Energy companies
The concept of branded energy is confusing so the opportunity to take the high ground for the category is there to be had.
Which other brand categories do you think could be missing a trick?