Music festival taps crowdsourcing trend with T-shirt design contest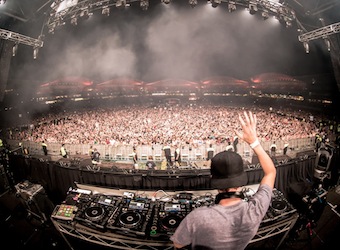 Australian dance music festival Stereosonic has opened up its merchandise design brief to aspiring T-shirt designers globally in a collaboration with crowdsourcing platform 99designs.
The competition to design a T-shirt for the music festival is being held to merge Stereosonic's support of Australian electronic artists with the graphic design field.
John Curtin, Stereosonic brand manager, says: "Stereosonic showcases the world's leading and emerging electronic artists. We wanted to extend our support to graphic designers and highlight the relationship between design, music and fashion."
The design contest is open to entries from around the world, and encourages graphic designers to interpret the vibrancy and popularity of Stereosonic and summer, while taking into account current fashion and musical trends. The top two winning designs will each receive a major prize of US$1500 cash and five copies of their winning T-shirt. 10 runners up will receive a Stereosonic merchandise pack. The winning design will also be showcased at the festivals in each state capital city, with the opportunity to develop a relationship for further merchandise designs.