Navigating the 'client expectations' vs 'client budget' gap
What's most important: good, fast or cheap? You can only choose two, writes Katharina Murray.
You've probably come across one of the widely shared 'brief vs budget' memes (like the one above) on LinkedIn and Twitter, so I believe I speak for many expert marketers out there who find it challenging to bridge the gap between a client's marketing budget and their expectation of services/results.
Why is it that we have this issue in the marketing industry – more specifically the online marketing and SEO industry? When your car is broken you don't offer your service guy a budget to fix it, do you? No! You get a couple of different options from a few mechanics and make a decision on which one is most likely to fix your problem long-term.
Navigating a competitive field
Unfortunately we find ourselves in an industry where sharks are circling and it is very difficult for the discerning client to make it through the sea without being bitten. How do we work on shortening the gap between expectations and budget without losing clients to competitors who cold-call day-in-day-out promising to do things 'better and cheaper'?
Clients get bombarded with misleading 'cheaper' offers from international and local SEO providers on a daily basis. Most of the time, those providers don't have the expertise to get the results they promise, but by the time the client has jumped ship in pursuit of the cheaper price tag the damage is already done.
This leaves us with a tainted reputation for the entire SEO industry.
Good, fast and cheap
Never before has the term 'you get what you pay for' been so relevant to the SEO industry. It is important for clients to keep in mind that the 'good, fast and cheap' trinity can never exist all at once. You must choose only two.
Outlining transparently during the pitching process how the agency can generate results for the client, the KPIs they can expect, along with realistic timings and budget we as an industry can cut through the noise of the spammers and begin to build the reputation of the SEO industry as a legitimate and worthwhile marketing channel.
Let's look at some areas where the gap between budget and expectation is most evident and some ways to address this with the client.
Breadth of the brief
The most common request that we get is to gain exposure for the company's entire product or service range or a large portion thereof. So despite what the client's perceived needs are, we need to take the time to learn about the business, what makes it profitable, what its USP is, what is the cost of business and what a lead is worth.
Through this process, it's important to educate the client that online marketing is a unique marketing channel where you can target multiple target audiences, and easily pick and choose the most lucrative products or services to promote without wasting dollars on less important lines.
With feedback from the client about what areas of the business are profitable, it's possible to demonstrate that there are a variety of options to suit their budget – i.e. market a core group of products/service for a lower budget, or more aggressively cover the whole market with a larger budget. The choice is the client's.
The time gap
Within online marketing there is another dichotomy of services which clients need a better understanding of. While paid search and display advertising can get results quickly – essentially from day one – by the same token, as soon as you stop investing dollars they stop getting results. SEO on the other hand has a longer-term pay-off. Good SEO can benefit a website for years to come. But results are slow to materialise, taking somewhere between six to nine months to really start seeing good traction from white-hat tactics.
Often clients lose patience before this point, another reason why those cold-calling, black-hat competitors can get their foot in the door with empty promises of 'doing things better' before the client's current SEO strategy has even had enough time to kick in. Again this breeds mistrust in SEO as clients feel they don't know who to trust – should they be patient with their current provider or cut their losses and try someone new. This is such an issue that it is one of the top SEO related queries searched on Google.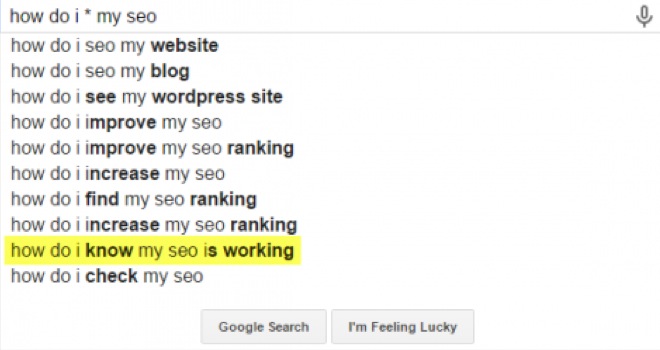 For us as the SEO professionals, the only way to overcome the time gap is total transparency and regular monthly or weekly discussions about the work performed and results achieved. It also helps to offer a combined strategy with SEO and paid advertising models where leads can be generated within days, but long-term gains are also achieved.
Closing the gap on expertise
While clients have been conditioned over time to set aside reasonably large budgets for older marketing channels like advertising, merchandise, PR, design and even web development, SEO and online marketing have long been seen as an after-thought or add-on.
In fact, SEO is a highly technical, robust and major marketing channel, and if you choose the right SEO agency, the agency should become an extension of your in-house marketing team. SEO is also a very skilled profession. Really good talent is hard to come across, and those who do excel expect to be reasonably paid for their talents. So adequate online marketing budgets should be set aside to reflect this.
Successful online marketing is a matter of skill and experience and if those are demonstrated clearly to the client alongside the expected ROI, the gap between expectations and budget can be addressed.
In the end, we can't expect client expectations to change by themselves. First we need to cultivate a better reputation for the SEO industry as a whole by engaging in less unscrupulous poaching and pitching tactics. SEO professionals also need to offer better client education right from the outset – even before the proposal process – is key to addressing the misalignment of expectations vs budget.
Katharina Murray is sales and marketing manager of Perth-based SEO and online marketing firm White Chalk Road.