Nescafé enlists designers in competition to engineer a new life for the humble coffee plunger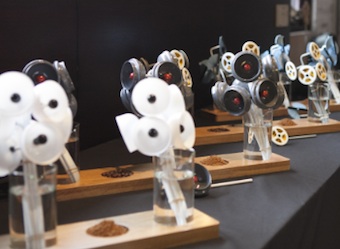 Three designers, one theme, 150 plungers and countless cups of coffee was all it took for designer, Christel Hadiwibawa, to be named the winner of 'The Azera Project'. The competition, created by Nescafé, involved three emerging designers who accepted the challenge of creating the ultimate re-use for the coffee plunger.
The competition saw the designers use 150 plungers to create something new and functional while the Nescafé Australia and New Zealand Facebook page hosted videos and image albums showcasing each contestant's journey throughout the two-week production process.
Nescafé brand manager Lennart Sipsma said in a statement, "Coffee taste and preferences are constantly evolving and Nescafe Azera is leading the charge by catering to the demands and needs of its customers.
"As a brand we are excited to work with such a talented team of designers to bring this concept to life, and in turn, give them a platform to showcase their impressive work.
"It was also important for us to have our Nescafé Facebook community play such an
important role in the journey from start to finish," she said.
The designers, Christel Hadiwibawa, Seaton McKeon and Jacob Pemble, all used cutting-edge techniques and processes to create three unique designs, centred on the theme of 'Evolution', as voted by the Nescafé Facebook community.
Hadiwibawa's design was crowned the winner at an unveiling event last week. Her inspiration came from the fives senses, with coffee offering taste and smell – the winning design included a chess set, light feature and speakers using materials from plunger component to represent the senses of touch, hearing and sight.
http://youtu.be/1fXMC2vcE2c
http://youtu.be/GIAtNfqS17U
http://youtu.be/367r9adbxt0