13cabs launches cheeky new campaign via Thinkerbell – 'Official Travel Partner of…'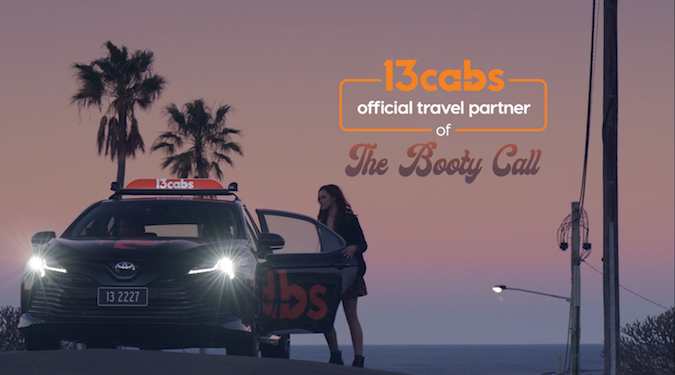 13cabs has released a new campaign in which the taxi company becomes the 'official travel partner' of overly-affectionate drunk friends, painful shoes, late-night booty calls and more.
The new campaign launched last week via Thinkerbell with six 15-second TVCs aligning 13cabs with relatable, everyday moments. The campaign is also set for distribution over TV, BVOD, digital and social media.
The spots touch on several familiar metropolitan moments, from 'I thought the meeting was here', to tucking a drunk friend into the back of a cab, to re-evaluating shoe choices moments before leaving for a night out.
According to Rebecca Fyson, head of marketing at 13cabs, the campaign is design to remind audiences of "all the different times people hail and request 13cabs."
"Our cabs have improved, our drivers have improved, our prices are comparable and our 13cabs App proudly carries 4.8 stars in the iOS app store as rated by over 30,000 passengers; so it's a great time to let people know 13cabs is there if you need a quick ride" says Fyson.
The spots were created by Thinkerbell, directed by Matthew McCaughey, produced by Guilty's Rohan Timlock, edited and finished by Ryan Brett of Manimal, sound design from Dylan Stephens at Risk Sound, with media conducted by Nunn Media.
Thinkerbell's chief creative Tinker, Jim Ingram, says the challenge to director McCaughey was to "show our audience we understand them, and give them a smile – and I think he's nailed this brief."
"This idea is relatable and likeable and is designed with executions that will be implemented across loads of different types of screens. So next time you CBF'd riding into work, you know what to do," says Ingram.
The elephant
It would be remiss to cover what is ostensibly 'Australia's largest taxi network' without making mention of its most intimidating challenger.
Late last month Uber announced that it would be integrating public transport price and time comparisons into its app. The feature update launched in Sydney, with users able to view real-time bus, train, ferry and light rail information in the Uber app.
"This is an important step towards making it possible for people to replace their private car with their mobile phone," writes Kate Stannett, head of cities for Uber Australia and New Zealand.
"You might ask, why is Uber doing this? It's simple – we're looking beyond ridesharing to becoming a true transport platform."
"Road congestion isn't good for anyone, least of all Uber driver-partners or riders. This new product is all about empowering riders to make the best journey choice."
Uber's other notable moves Down Under include an expansion of its Uber Eats operations in Darwin. According to Elisa Janiec, Uber Eats NZ and remote cities lead ANZ, Uber's "growing Darwin footprint" aligns with the company's wider goal of supporting the entirety of Australia, "no matter where they are – at the tip of the NT or the tail of Tasmania."
Further Reading:
Image credit: 13cabs