LinkedIn unveils 2018's most powerful marketers, hits 10 million Australian users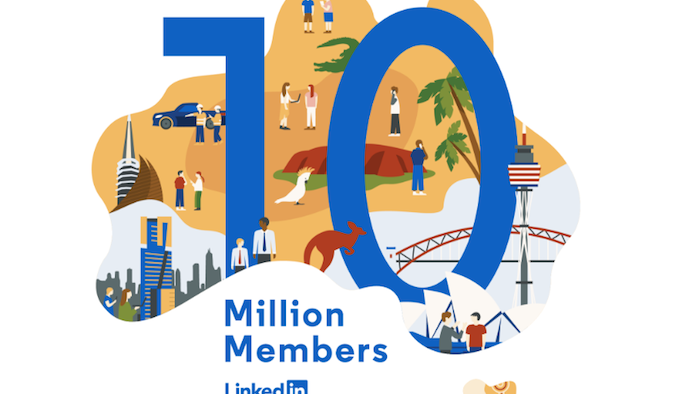 LinkedIn is celebrating its latest milestone of 10 million members in Australia and has launched its Power Profiles lists for 2018.
Today LinkedIn announced its milestone of accruing 10 million Australian users. With an international network of more than 590 million users, LinkedIn opened its first Australian office in 2010, entering the market with an existing one million users.
ANZ country manager for LinkedIn Matt Tindale comments, "A diverse community of 10 million members is a significant representation of professionals on LinkedIn as there are 12.6 million working Australians in a population of 25 million.
Alongside the announcement, the professional network has also unveiled its '2018 Power Profiles' list, showcasing the platform's most-viewed professionals across five categories: founders and CEOs, SMBs, social impact, marketing and advertising and HR.
The most viewed marketing and advertising profiles in 2018 are:
Anthony J James, head of strategy, innovation and growth, Trinity Consulting Services

Branka Injac Misic, CMO, Arlo & Co

James Sugrue, founder, AFK Agency

Louise Scott, acting executive director – Markets & Partnerships, Tourism Western Australia

Peter Bosilkovski, CEO, Y&R ANZ

Russel Howcroft, partner and chief creative officer, PwC Australia

Stephanie Tully, CMO, Qantas, and

Timothy Whitfield, VP strategic solutions APAC, Sizmek.
The most viewed founder and CEO profiles in 2018 are:
Brian Hartzer, CEO, Westpac Group

Janine Allis, director, Retail Zoo/founder of Boost

Melanie Perkins, CEO and co-founder, Canva

Matt Barrie, chief executive and chairman, Freelancer

Nick Molnar, co-founder and CEO, Afterpay

Pip Marlow, CEO-customer, Suncorp Group

Shayne Elliott, CEO, ANZ, and

Ruslan Kogan, founder and CEO, Kogan.
According to LinkedIn, the Power Profile lists are generated from data from 2017 and 2018, with filters applied to capture other actions on the platform such as engagement. LinkedIn employees were also excluded from the list
"This is also a great time to celebrate the success of some of our members in Australia, who are the most viewed professionals on LinkedIn in 2018," writes LinkedIn ANZ head of brand marketing and communications and regional lead for B2B comms, Shiva Kumar.
"The Power Profiles remind us that we all have our own definition of success and we need to chart our own path. This is what makes us stand out from the rest. I hope these professionals will inspire you to pursue what you are in it for."
Further Reading: