MLA Summer Lamb 2019 campaign – Aussies reach further south in desperate times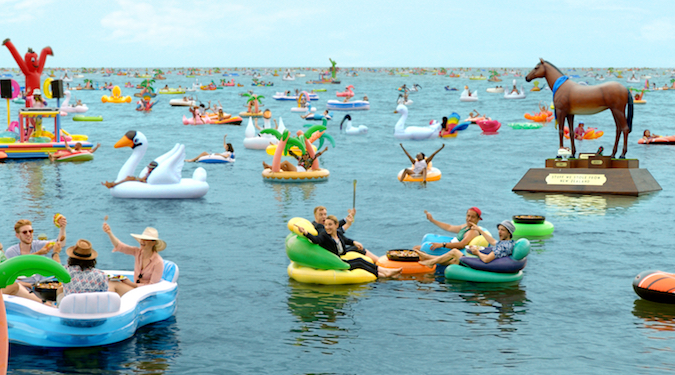 The 2019 edition of Meat and Livestock Australia's Summer Lamb campaign reignites a century-old proposition to unite Australia and New Zealand to form New Australia-land.
For the second year in a row, Meat and Livestock Australia (MLA) takes a tongue-in-cheek look at the state of Australian politics, arriving at the same resolution: lamb. The annual Summer Lamb campaign arrives once again through The Monkeys, building on its 'Share the Lamb' brand platform – this time going intercontinental.
The two-minute spot harks back to the year 1900, in which Australia's first Prime Minister Edmund Barton is finalising the Constitution Act, under the assumption that New Zealand will accept his offer to become part of Australia. Fast forward to modern day, in an Australia disgraced by dodgy cricket practices and a Prime Ministership constantly changing hands, two young politicians arrive at the same conclusion: that Australia and New Zealand should become one.
"The good-humoured rivalry between Australia and New Zealand is something that underpins each country's cultures," says domestic market manager at MLA, Graeme Yardy. "As a brand, Australian Lamb is famous for settling differences and promoting unity, so we thought it was the perfect opportunity to bring both nations together over some tasty Aussie lamb."
The ad aired for the first time last night on free-to-air and subscription TV and is set to be pushed out across digital, social and radio from today. Media partners Nova Entertainment and Junkee will also support the campaign across multiple channels, encouraging both nations to unite as New Australia-land.
"Lamb has always been about uniting Australians around what makes our country the greatest, but in recent times we seem to have lost our way," comments executive creative director at The Monkeys, Vince Lagana. "Whereas our Kiwi neighbours, under the leadership of Jacinda [Ardern], are progressing nicely.
"True to tradition we always claim the best of New Zealand – but this time, with the help of a little lamb chop, we want to go one step further and claim the entire nation to form 'New Australia-land'.
"Edmund Barton almost made it happen in 1900. In 2019 we want to make it a reality. In this fun natured, tongue-in-cheek campaign everyone wins… except maybe the All Blacks."
In-store, product-focused point-of-sale activations will deliver meal inspiration to accompany the spot, focusing on a variety of different lamb cuts and cuisines. While, Trans-Tasman recipes developed by Daniel Wilson, will underpin the campaign and, says MLA, "inspire Aussies to cook and share a lamb meal together".
Further Reading:
Image credit: Supplied