Outrage intensifies over Opera House horse racing ad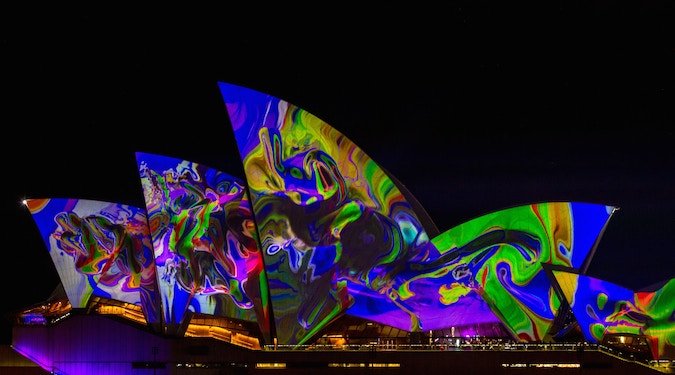 Prime Minister Scott Morrison has endorsed NSW Premier Gladys Berejiklian's decision to allow advertising for The Everest horse race on the Sydney Opera House.
A petition protesting the proposed advertising has received more than 135,000 signatures.
Mike Woodcock, who started the petition on Change.org, writes "Alan Jones and his Gambling mates at Racing NSW want to turn the Opera House into their own promotional billboard."
Prime Minister, and former chief of Tourism Australia, Scott Morrison defended the move to the regional NSW town of Blayney on Sunday.
"This is one of the biggest events of the year. Why not put it on the biggest billboard Sydney has?" he said.
"I come from a tourism background, these events generate massive opportunities for the state, for the city."
Following his visit to the Bathurst 1000, the Prime Minister said he would "put the Bathurst 1000 on the Harbour Bridge if I thought it was going to get more people there."
This was Racing NSW's official submission to the Sydney Opera House pic.twitter.com/a25kRBATyR

— The Sydney Morning Herald (@smh) October 5, 2018
Chief executive of the Sydney Opera House Louise Herron reluctantly agreed to allow a toned down version of The Everest's initial proposal. The sails are now planned only to project participating jockeys' colours onto the Opera House's sails, however Herron resisted against the inclusion of words or branding.
"We have a policy that protects our world heritage status," Herron told Alan Jones on 2GB.
According to Peter V'landys, chief executive of Racing NSW, the organisation has agreed not to project The Everest's logo onto the Opera House.
"We have said 'yes' to the Peter V'landys' request to put the jockeys' colours on the sails. We have no problem with that.
"What we won't do is put text or videos of horse running or horses' numbers or names or the Everest logo on the Opera House."
Jones suggested that Herron should be fired for her resistance, "If I were Gladys Berejiklian, I would pick up the phone and sack you today.
"I didn't hear an outcry when the sails were lit up to promote the Mardi Gras or Ashes cricket."
In January the Opera House was lit green and gold, featuring the Ashes trophy. In November of 2017, the sails adorned a striped rainbow projection as it hosted an event for Sydney Mardi Gras.
Morrison continues, "We're talking about an event that is one of the big money spinners for the state. It creates jobs. This isn't about advertising a packet of chips, this is about advertising one of the biggest events that NSW holds.
"Frankly, I thought it was a no-brainer. I can't work out what all the fuss is about."
This is culture in Australia – using the world-heritage listed Sydney Opera House to promote a $13m horse race pic.twitter.com/k7ciLTLDvC

— Rory Baxter (@rorydbaxter) October 8, 2018

Further Reading:
Image credit:Holger Link