The ads of Super Bowl 2018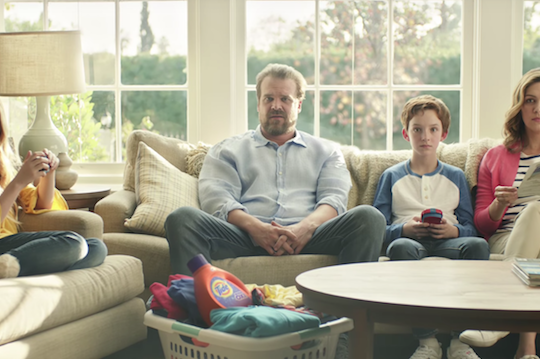 Here's Marketing's Super Bowl 2018 ad wrap.
It's the biggest day of the TV advertising calendar. Over 100 million viewers watch the broadcast, with more around the world. Good Super Bowl ads achieve pop culture icon status. Bad ones are forgotten, the only memory being the painful price-tag. A 30-second spot during this year's NBC broadcast is cost an average of US$5 million, Sports Illustrated reports.
Our faves? Probably Tide's 'It's a Tide Ad' as well as a surprise entrant from a big name Australian. Choose for yourself below!
Amazon
Amazon's commercial ponders what would happen if Alexa lost her voice. The company employs replacement voice assistants including Gordon Ramsay, Rebel Wilson and Anthony Hopkins. The ad also stars Amazon CEO, Jeff Bezos.
Avocados from Mexico
Humanity's sealed in a giant dome where everything's perfect and everything else perfect has been included inside, even avocados. But unfortunately, the chips were left just outside the dome.
Budweiser
No appearances (so far) of the usual clydesdales in this year's Budweiser ad, instead this year the brand focused on its clean water project. Since 1988, Budweiser has sent cans of clean water to cities across the US that were impacted by natural disasters.
Bud Light
The Bud Knight rides in and saves the day in a medieval battle scene.
Coca-Cola
Coca-Cola's ad celebrates diversity, showcasing the billions of different people of the earth, saying there's a type of Coke for everyone.
Doritos and Mountain Dew
The ad stars Game of Thrones star Peter Dinklage lip-syncing some Busta Rhymes lyrics for Doritos and Morgan Freeman lip-syncing to Missy Elliott for Mountain Dew Ice.
E-Trade
The online investments platform's 'This is getting old' ad features elderly Americans still in the workplace – leveraging a key trend in the US – over one in three Americans have no retirement savings.

Febreze
The air freshener spray brand's TVC tells the story of Dave, a man whose 'bleep don't stink', and ends 'Dave isn't at your Super Bowl party, but everyone else is. Is your bathroom ready?'
Groupon
Actress Tiffany Haddish stars in the commercial promoting Groupon and supporting local businesses.
Jack in the Box
The fast-food chain's mascot faces off with Martha Stewart.
Kia
Aerosmith frontman Steve Tyler turns back the clock in 'Feel Something Again.'
Lexus
The TVC features Chadwick Boseman in character as Marvel superhero Black Panther. The Black Panther film will be released this year.
M&Ms
Regular M&M character 'Red' wishes he could be human so people try to stop trying to eat him. His wish is granted and his human form is played by Danny DeVito.
Michelob Ultra
The US beer brand's ad stars actor Chris Pratt preparing for his role in its Super Bowl commercial.

Pepsi
This year's Pepsi ad celebrates Pepsi ad campaigns over the year, delivering the tagline 'celebrating every generation.'

PETA
People for the Ethical Treatment of Animals' (PETA) commercial pulls no punches. It tells the story of a meat and livestock industry executive confessing his sins – lying about the industry's treatment of livestock. It stars vegan actor James Cromwell and delivers the call-to-action 'go vegan'.
Pringles
The 'Wow' commercial stars Bill Hader and encourages customers to stack and combine various Pringles flavours to make new ones.
Ram
The pick-up truck brand's ad is a modern take on the country hit 'Thank God I'm a Country Boy.'
Stella Artois
Another ad focusing on clean water projects, this one featuring Matt Damon. By purchasing a special edition beer chalice, customers help provide clean water to developing communities around the world, through a donation to Water.org (founded by Damon).
Star Wars
Disney released a teaser for the franchise's latest instalment Solo.

Sprint
A lab employee is mocked by his workplace full of robots for paying too much for his phone and data plan.
Squarespace
The website building platform's ad stars Keanu Reeves standing up, riding a motorcycle through the desert, and that's about it.
Tide
The laundry product brand's 'It's a Tide ad' stars Stranger Things' David Harbour and pokes fun at Super Bowl ad favourites.
Tourism Australia
What starts out as something that appears to be a trailer for a new Crocodile Dundee film starring Danny McBride and Chris Hemsworth is revealed to be a tourism ad for Australia.

Toyota
The 'Good odds' commercial features people with disabilities and tells the story of Lauren Woolstencroft, eight-time Paralympic gold medal winner.

Universal Studios
The Florida resort's TVC stars former NFL quarterback and two-time Super Bowl winner Peyton Manning.
WeatherTech
The car and truck accessory manufacturer celebrates US industry. 'We built our factory right here in America. Isn't that the way it's supposed to be?' questions the ad.
Wendy's
This year, the fast-food chain is taking on McDonald's head-on.