Tourism Australia delivers Dundee punchline during Super Bowl broadcast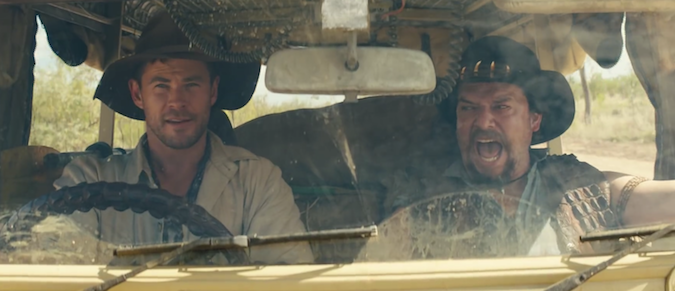 A film trailer for a new Crocodile Dundee film has been revealed to be a tourism ad for Australia in a TVC starring Chris Hemsworth and Danny McBride.
Part of the global 'There's Nothing Like Australia' global masterbrand, the promotion is part of a record-making AU$36 million marketing campaign to send US tourists to our shores.
It's the biggest single investment Tourism Australia (TA) has made in the US since Paul Hogan's 'Come Say G'Day' ads over 30 years ago.
"Crocodile Dundee put our country on the map for Americans three decades ago," says TA CMO Lisa Ronson.
"However, Australia has changed a lot since the original film and we wanted this new campaign to reflect that. Our new Dundee will include those iconic rugged outback scenes while also exploring a more contemporary version of Australia, which includes stunning beaches, sophisticated restaurants and world-class wineries," she says.
Developed in conjunction with US-based advertising agency Droga5 and TA's global media services agency UM, the campaign began as a series of trailers for the new Dundee film – Dundee: The Son of a Legend Returns Home. It features cameos from Australian stars such as Hugh Jackman, Russell Crowe, Margot Robbie and Isla Fisher, and has been running since mid-January.
The social and PR campaign encouraged fans to tune in and watch the 'official movie trailer' during the Super Bowl broadcast.
"Crocodile Dundee and Hoges did an outstanding job 30 years ago of captivating American audiences and putting Australia onto their travel wish-lists," says TA global tourism ambassador Chris Hemsworth. "I'd like to think the inspiration the film has provided for this new TA campaign will ultimately translate into similar success," he says.
The agency's goal had been to create an "audacious, outlandish tourism campaign that only Australia would have the guts to pull off," says David Droga, founder and creative chairman of Droga5.
Like Super Bowl commercials? Here's 2018's all in one place »