Supermarket Christmas campaign wrap 2018 – who steals the show?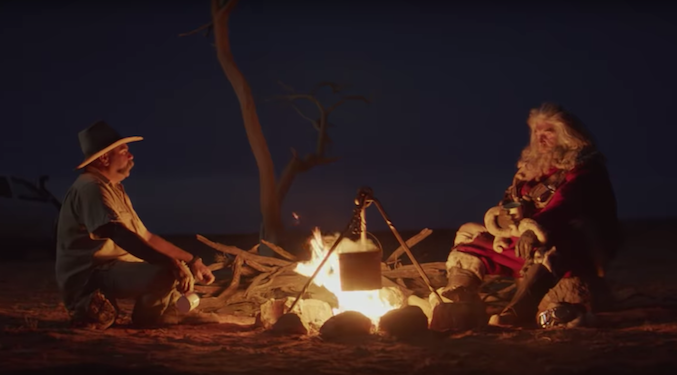 The big brands are feeling jolly and the stockings are off for Australian supermarkets this Christmas. Here's a rundown of holiday campaigns from Coles, Woolworths, Aldi and IGA.
Platters of prawns, plump turkeys, backyard barbecues, shiny hams and closeups of pavlovas – it can mean only one thing, the jolly season has hit adland. Here's a wrap of the big Australian supermarkets' Christmas campaigns for 2018.
1. Aldi – 'The More the Merrier'
Agency: BMF
What better time to celebrate Aussie mateship than Christmas? And what's more Australian than jump starting Santa's sleigh in the middle of the outback?
"'The More the Merrier' is an idea that places ALDI right where it should be at Christmas – between the Aussie generosity of spirit and the reality of not blowing your budget sky-high," says BMF executive director Alex Derwin.
2. IGA – 'Where the locals matter'
Agency: March One
Shane Jacobson returns this year as IGA's Santa lookalike spokesperson, touting the brand's well-secured homegrown, community-based brand platform.
"The heart of IGA's brand are locals: local storeowners, local suppliers, local communities and local shoppers," says March One creative director and owner Ben Coverdale.
"It was a natural fit to build the campaign around those locals, using shoppers cast from the Taren Point IGA store."
3. Woolworths – 'Home for Christmas'
Agency: Greenhouse
Woolworths turned its focus to the family coming together this Christmas, precariously hauling conventionally out of place food items from across the country.
"We know that home is where the heart is and at Christmas time, we take journeys big and small, to be with the ones we love and central to that gathering is the food," says Andrew Hicks, director of marketing at Woolworths.
4. Coles – 'Good Things Are Happening'
Agencies: Big Red, OMD
Coles decided to play it safe this year with the archetypal backyard Christmas bash – scored by a reworded carol and featuring celebrity chef Curtis Stone.
Further Reading: