Nine Entertainment Co acquires Microsoft's 50% share in Mi9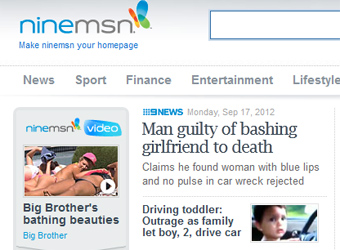 Mi9 has released a statement this morning announcing Nine Entertainment Co has acquired Microsoft's 50% share of the company giving Nine 100% ownership of nineMSN and the rest of  joint venture Mi9.
The move by Nine Entertainment Co comes ahead of its planned listing on the ASX later this year.
The announcement:
Nine Entertainment Co (NEC) CEO David Gyngell today announced that terms had been agreed with Microsoft to acquire its 50% share of Mi9 (ninemsn Pty Ltd). "From 1 November, NEC will take control of Mi9. This agreement will see Mi9 continue to provide market leading digital solutions to Australian consumers and advertisers," he said.

As part of the arrangement, Microsoft has signed a long term strategic partnership agreement, whereby Mi9 will continue to represent Microsoft's suite of advertising products, while leveraging their world leading technology, data, insights and innovation.

"This agreement allows NEC to retain the key elements of our almost two decade strategic partnership with Microsoft. It strengthens the platform for NEC's growing digital video business and ultimately allows us to control 100% of our digital future," Mr. Gyngell said.

"Mi9 is a true leader in Australia's digital marketplace and we're confident in the company's continued success," said Axel Steinman, Vice President for Emerging Markets, Microsoft Advertising. "Our strategic partnership agreement will see the continuation of our strong relationship with Mi9 and NEC well into the future," he said.

Established in 1997 as ninemsn, a 50-50 joint venture between NEC and Microsoft, Mi9's collective properties such as news.ninemsn.com.au and have been embraced by up to 12 million Australians each month. This is alongside the nearly 400,000 Australians who have downloaded and interact with Mi9 and Nine's second screen app Jump-in.

"I'm pleased to confirm that Mark Britt will continue as CEO of Mi9. Mark is a talented leader who has overseen the transformation of Mi9's offering to make it one of Australia's leading digital companies with its own distinct culture. His commitment to Mi9's people and values has also positioned the company as an employer of choice. As we move into this next phase for Mi9, I'm delighted that Mark will continue to lead the business into the future," Mr. Gyngell says.

"Ninemsn and Mi9 have been a critical part of NEC's digital business for many years. With the continued convergence of TV and digital, I'm incredibly excited to be able to be able to leverage NEC's extraordinary entertainment offering and our continued relationship with Microsoft to be the digital partner of choice for our users and clients," says Mark Britt, CEO Mi9.

"This is an exciting time for us at Mi9. NEC has always been a fantastic shareholder, so this is business as usual for us. Our commitment to our audience, users, advertisers and employees remains the same," he said.