Not-so-merry Christmas for Santa in #SeatsUpForSanta prostate health campaign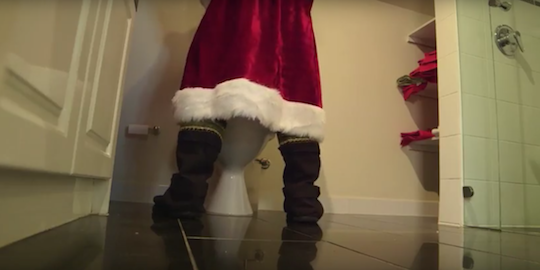 A new campaign raising awareness for men's health imagines a world in which Santa Claus suffers benign prostate enlargement.
GSK has sponsored the #SeatsUpForSanta campaign, which aims to raise awareness of prostate enlargement, or benign prostate hyperplasia (BHP) in men.
The campaign video shows Santa trying to run his Christmas Eve errands while having to make frequent toilet trips.
The campaign encourages men over 50 to speak to their doctor if they find themselves having to get up more than once a night, as, though not life-threatening, can reduce quality of life.
"Prostate enlargement is a common condition, so many Australian men will recognise the symptoms in Santa's video. If we can get some attention by being a little light-hearted about the symptoms then hopefully we can encourage more blokes to talk their doctor about treatment," says Sydney-based urologist Associate Professor Manish Patel.
Here's the campaign video