Oakley unveils global brand push with film narrated by Kevin Spacey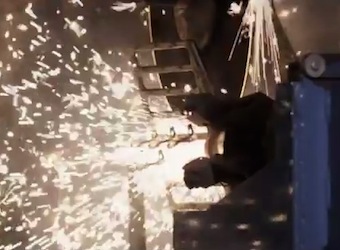 Sports eyewear brand Oakley has released 'A Story of Disruption', a short film that explores the Oakley brand philosophy and showcases its product designs from 1975 to present day, narrated by actor Kevin Spacey.
The brand has also announced partnerships with Formula 1 team Scuderia Ferrari and technology media brand WIRED. 
The short film navigates the brand's heritage from inception to future possibilities, maverick founder to game-changing athlete icons, and pays tribute to nearly 40 years of industry disruption in a three minute short.
The release of 'A Story of Disruption' signals the launch of a dedicated web platform on Oakley.com/disrupt that will house additional storytelling content that explores the people, places and products behind the Oakley brand. Further films will take viewers inside the mind of Oakley 'mad scientists' and behind the blast doors of the fortified Oakley HQ design bunker in California.
The online platform launch forms part of Oakley's 'Disruptive by Design' global brand communication campaign which was announced earlier this year at a global unveiling in California in February. Spanning advertising, PR, content, events, retail, social and partnerships. In the pipeline lies an Oakley produced custom video series that will be featured on an Oakley Hub within the WIRED online platform.
"This is the beginning of an exciting chapter for the Oakley brand," says Tom Cartmale, global brand communications director at Oakley. "We have stories that need to be told and philosophies that should be shared, as they have the power to inspire the next generation of innovators. We are excited to present 'A Story of Disruption' and bring people closer to the maverick mindset and unconventional design thinking that is infused in our brand."
http://youtu.be/ozwtG8Q0idc