Obama and Telstra's backing of the maker movement is a nod to middle-class creators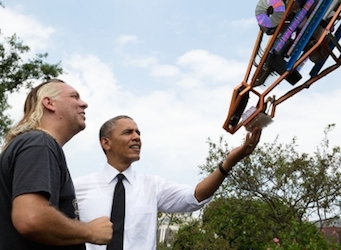 The White House's support for the burgeoning maker movement and Telstra's backing of start-ups is a nod to the people who make things, writes Patrick D'souza.
For America it's make or break – for Australia too. And it's taken a legendary President (and perhaps, Vaclav Smil) to make us aware of this reality!
When Bill Gates showed us what his library looked like online a few years ago, I became aware of the scientist Vaclav Smil. One of the  books in Gates' library I decided to try out was by the Russian-born Smil. What struck me about this incredible man was his observation on the economic woes of many of the industrialised nations.
"We sold the lower middle class out the moment we decided to outsource manufacturing and production," Smil writes.
Think about how significant and true this observation is. The people least able to adapt to the punishing pace of globalisation are the lower middle class. And, we sold 'em out! You, me and the party in power at the time.
I was delighted therefore to learn of Obama's Maker Faire. It's a nod to the ones who make things, the ones who create real wealth while doing so.
It's an initiative not dissimilar to Telstra's sponsorship of Muru, an accelerator that gives Aussies with ideas the means to carry them out. Maker Faire recognises the harsh reality of how wealth is created. Not just by dreaming, but doing – or  making as well – as President Obama would say. (Read more about Maker Faire on the White House website, and about the great stuff Telstra is doing with Muru here.)
Disclosure: I was not paid by President Obama or Telstra to write this post. I just wish I was.