Olly's online video advertising tip three: How to score a YouTube upgrade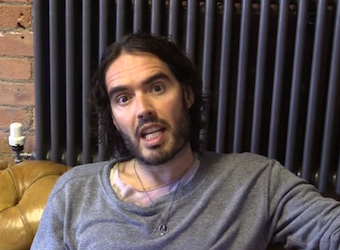 This is the third installment in a five-part series of tips for brands looking at getting the most out of online video ads, by YouTube's Olly Grundy. Check out part 1 and part 2. 
Everyone likes turning left when they get on a plane.
If online ads flew longhaul, the first class section would be taken up with made-for-web content, like Volvo's van Damme Epic Split or Dove's Real Beauty Sketches, wallowing in Dom Perignon and multi-million figure viewcounts.
Of course, not everyone has made-for-web ads at their disposal. Most online ads are based on TVCs. In other words, they travel economy class – getting the job done with minimal fuss.
Except, of course, if they score an upgrade. And love him or hate him, if there is one person who would know how to do this, it's Russell Brand.
Brand's regular YouTube updates are often filmed on his sofa, and probably cost little more than some beer and a pack of pork scratchings. But he has managed to drive over 340,000 subscribers since the start of the year. Part of this is because he is Russell Brand. And part of this is because he does a few little things that make his YouTube channel much more likely to get watched and shared.
By following these three quick and easy tips, you stand a good chance of scoring a YouTube upgrade:
1. Dress the part
In fact, top and tails. Every video on Russell Brand the Trews starts with him encouraging viewers to "subscribe now!" and ends with him doing the same. It's a live call to action that boosts the number of subscribers – and hence the number of people that will receive a prompt when his next video goes live.
2. Be chatty at check-in
Brand cheerily replies to YouTube comments, and mentions specific subscribers in his show. He builds rapport with his fan base, who feel as though there is someone at the end paying attention to their views. The more you engage with your viewers, the more your channel is going to grow. If Russell Brand can find the time, someone in your team can too.
3. Put on your best smile and just ask
If your viewers have watched to the end of your video, offer them the option to see more. At the end of Brand's videos, he displays a panel with hyperlinks to other videos, so people watch more and more of his shows. It's a simple but effective tactic, and one that any advertiser can employ.
These suggestions are not going to turn a TVC into a YouTube rockstar. But they are quick, inexpensive and effective ways of making your video go further.  It's easy to forget them when the creative thought is focused on the TVC. But if you don't like sitting bolt upright when you could be lying fully flat, give these tips a go.