Nissan Almera launch promotion: Australia's first daily deals car sale
Campaign: Nissan Almera launch promotion
Client: Nissan Motor Company
Partner: LivingSocial
Background
To coincide with the launch of the Nissan Almera in 2013, Nissan made the bold move to go where no car brand had gone before in Australia: daily deals.
The Nissan Almera is a light car that's big on space, comfort and value. It's this focus on delivering more for less that draws parallels to LivingSocial, the group- buying site used by millions of Australians. With a focus on delivering the best value offers to its members across the country, LivingSocial was tasked with developing an innovative campaign to drive online interest in the Almera that converted into test drives at dealer showrooms.
With a strong history as a strategic brand partner to automotive brands in the US, LivingSocial Australia set out to deliver a national first that captivated Nissan's target demographic of females aged 25 to 35 years of age and ultimately drive consumers directly into the dealerships to experience the brand firsthand.
Objectives
Nissan and LivingSocial's core objectives were to:
create awareness for the Nissan Almera among the target audience (females aged 25 to 35) through the LivingSocial media platform,
acquire data on potential buyers and share with dealers, and
drive consumers directly into the dealerships to test drive the Nissan Almera.
Strategy
Working closely with Nissan's marketing team, LivingSocial developed a fun and innovative opportunity for its members.
The strategy took the following elements into consideration:
Targeted approach 
The highly engaged and national LivingSocial audience, made up of millions of savvy shoppers, particularly females aged 25 to 40, provided a natural synergy with Nissan's ideal demographic for the Almera.
Online to offline 
LivingSocial's audience is accustomed to purchasing deals that are tailored to their location, issued via daily eDMs (electronic direct mail) and hosted on the LivingSocial website. These deals are then redeemed in-store. The aim for the Nissan campaign was to utilise the same mechanism targeting users digitally and driving them directly into dealerships.
Data is king
By capturing the data from consumers who entered the competition, LivingSocial was able to deliver the personal details
of potential car-buyers directly to the dealer principals and, in some cases, drove customers directly into the dealerships.
In it to win it
In a world where giveaways are commonplace, LivingSocial provided a campaign that extended beyond being simply a chance to win a car, but rather a creative opportunity to participate in a 'once in a lifetime' deal.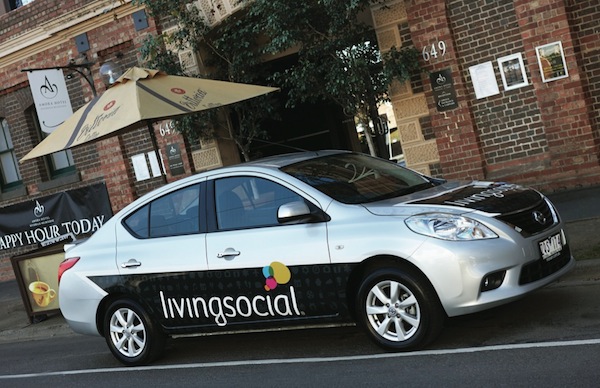 Execution
The campaign was designed to capture interest and engage members across multiple channels, with the ultimate goal of securing test drives at dealer showrooms.
Branding on-site
LivingSocial provided a media platform that generated high profile exposure across its website. Throughout the campaign, Nissan featured prominently on the site in the form of banner and display ads, direct emails and promotion via LivingSocial's social media channels, including Facebook.
Golden tickets
LivingSocial created a highly engaging concept that built anticipation ahead of the launch and sustained interest during the campaign through ongoing communications with its network of members.
At the core of the campaign were three $1 vouchers, which entitled three LivingSocial members to score a huge saving on a new Nissan Almera.
Over three consecutive days, LivingSocial released one voucher per day, offering each purchaser 40% off the recommended retail price of a Nissan Almera Ti four door-sedan. This equated to $9621 off the maximum estimated drive- away price of $23,420. Each voucher was released at a random time during the day and operated on a first come, first serve basis, creating significant anticipation. Along with the targeted eDMs containing links to the $1 vouchers, LivingSocial promoted the campaign across a series of banner ads on eDMs to create awareness prior to the launch and followed the three vouchers with an enter- to-win campaign.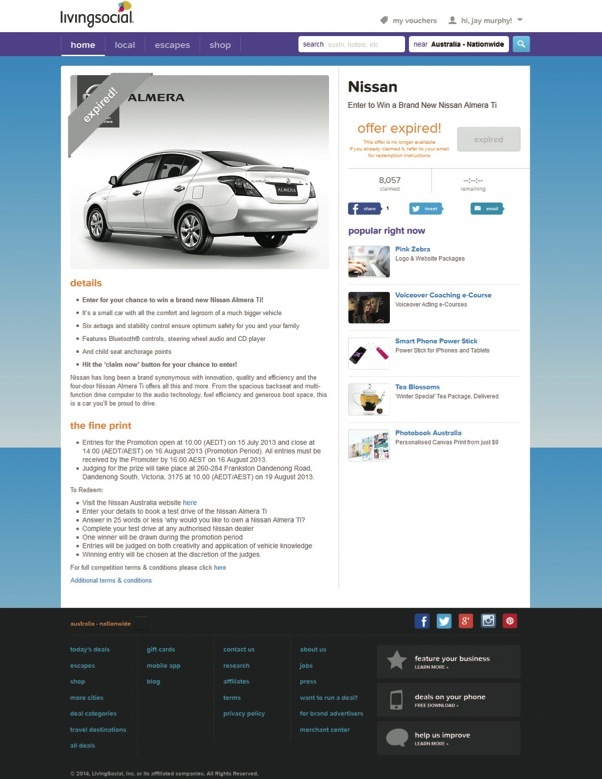 Nissan Almera competition
In addition to the three $1 vouchers, Nissan also offered a chance to win one free Almera. To qualify, consumers were directed to a Nissan-hosted m-site, where details of the LivingSocial campaign were housed. The landing page highlighted the chance to win by simply test driving the Almera and invited consumers to input their data to enter the competition.
The final step for consumers to be eligible to win was to actually go into a Nissan dealership and test drive, which meant only consumers who were committed to the brand were qualified to win. LivingSocial's ability to strategically connect with a highly engaged audience of smart shoppers meant the in-store participation element soared.
Other channels
Nissan supported the launch of the Almera with wider marketing activities across outdoor advertising and social media support.
Results
The campaign exceeded performance expectations, which resulted in increased traffic of prospective buyers to Nissan dealerships around Australia. Nissan has since executed multiple campaigns with LivingSocial.
Results included:
8500 people entered to win the free
Almera,
a high conversation rate of 5%
visited a dealership to test drive the
car, and
all three cars were sold, with the
quickest voucher claimed in seconds, and the longest claimed in just under one minute.