Pinterest funeral campaign: TAC targets women with macabre road safety pins
Victoria's Transport Accident Commission (TAC) has turned to Pinterest to support its road safety campaigns with pinboards that pose as funeral planning inspiration.
The 'How to Plan a Funeral' campaign aims to use women as an influence on male driving behaviour by hammering home the message that speeding can put families in the situation where they need to plan a funeral.
Different boards have been loaded to the account to pose as ideas for different aspects of funerals, such as flower arrangements, coffins, hearses and even eulogy inspiration. The #slowdown message is delivered in the description of each image, in the final image of each board and in the last pinboard which is dedicated to images from the body's 'Pictures of You' campaign.
The final image of each board contains the text, "I'd hate to plan your funeral. Slowing down won't kill you," in stark black and white lettering.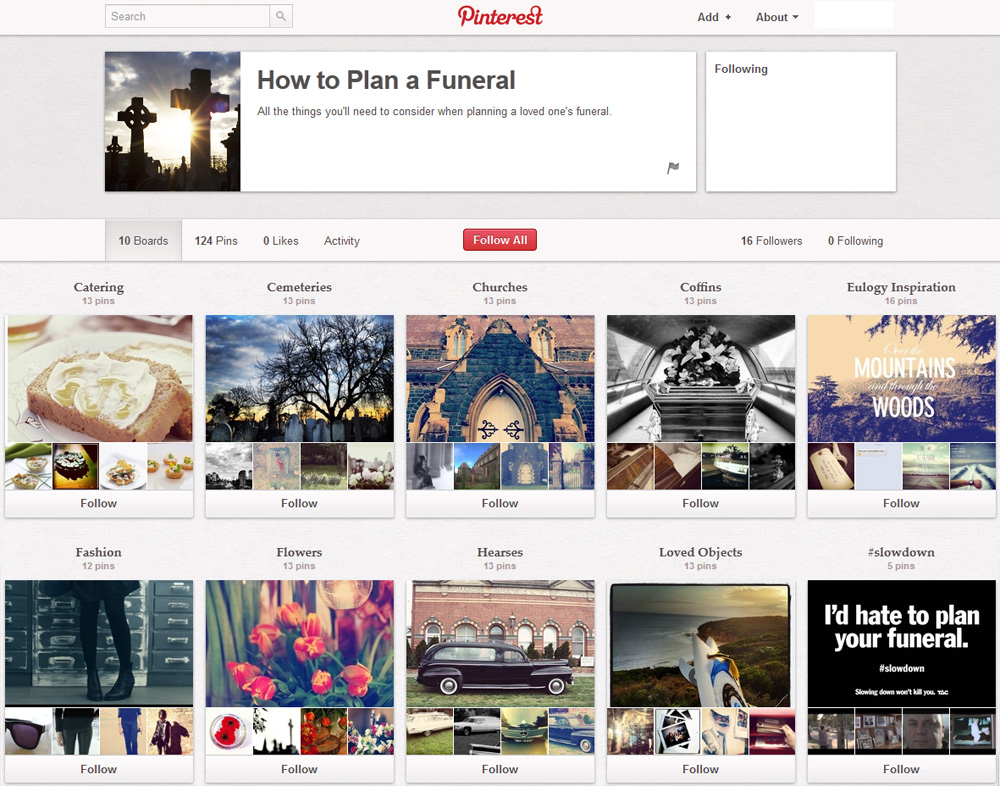 The TAC quotes statistics that reveal male drivers aged 21 to 26 years are than 50% more likely to be involved in a car crash due to speeding. Women were found to be a positive influence on male driving behaviour, directing TAC to the female-dominate social scrapbooking site to capture the attention of mums, daughters, sisters and girlfriends of speeding drivers.
"Females make up over 80% of Pinterest users and the TAC wants to spread the road safety message to this influential group online," The TAC's CEO, Janet Dore, says.
It is hoped that the repinning of images carrying the #slowdown hashtag will help spread the campaign's message. The initiative will run concurrently with the 'Pictures of You' campaign, which features real families who have lost a loved one due to speeding.