Qantas back in top 10 at World Airline Awards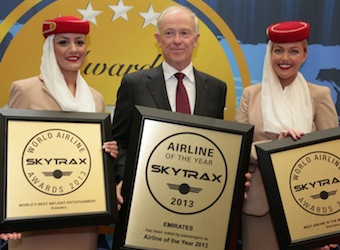 Qantas Airways is back in the top 10 world airlines, and back at number one in the Australia-Pacific rankings, with the results of the Skytrax World Airline Awards for 2013 announced in Paris this week.
In a ceremony taking place at the Paris Air Show, the results of the passenger-voted Awards were announced, with Emirates named the world's best airline, a significant jump from its placing of number eight at last year's awards. Qantas came in at number 10.
Meanwhile, Virgin Australia came in at numer 13 world-wide, number two in Australia-Pacific, and also took out the award for Australia-Pacific's best airline staff service.
Even Jetstar picked up an award. It won the title of Australia-Pacific's best low-cost airline (and second best in the world), beating out AirAsia X, Scoot and Tiger Airways Australia in the local competition.
Qantas, 'The Spirit of Australians,' must be breathing a sigh of relief – it has consistently appeared in the top 10 of the rankings, but last year dropped down to number 15.
The World Airline Awards are a global benchmarking tool for passenger satisfaction levels of airlines, conducted through a questionnaire of passengers of all cabin and travel types.