Qantas becomes Spirit of Australians, prints customers' names on plane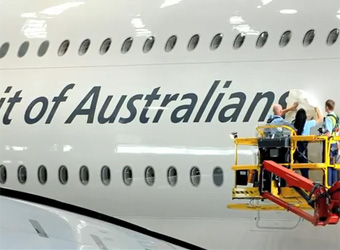 Qantas today launched the first phase of its new advertising campaign, 'You're The Reason We Fly', adjusting its position to focus more on the Australian people.
The campaign will see the airline change its tag line from the 'Spirit of Australia' to the 'Spirit of Australians' and encourage the public to get involved by inviting them to have their photo featured in a TVC or their name printed on a plane.
Executive manager of marketing for Qantas, Lewis Pullen, says the campaign celebrates the new spirit of our country and people, as Qantas seeks to change in line with changes to our nation.
"We've been flying with the Spirit of Australia on our planes for over 20 years and in that time we've changed a lot and we know that Australians have been changing too," Pullen says. "As Australia's airline, we're working hard to meet those expectations."
"The new campaign focuses on our customers, so much so, that we're asking all Australians to be a part of the campaign.
The addition of 'ns' to the 'Spirit of Australia' tag line on two aircraft was captured as a documentary that acts as a teaser for the first part of the campaign. Qantas employees and two Qantas ambassadors, Mark Webber and Steve Hooker, feature in the documentary talking about the change of tag line. The teaser campaign is supported by a print and digital campaign also in market today.
Over the next two weeks, Qantas is asking anyone who wants to be involved in the upcoming TVC to upload their photo and name via qantas.com/you or by using a specially developed mobile phone or Facebook app. A select few will appear in the end frame of the TVC or win the opportunity to have their name painted on the side of an A380 or B737 aircraft. Hundreds of people will be selected to have their name painted on the side of an aircraft by the end of July.
Photo kiosks offering hair and make-up touch ups and professional photos have been set up at Westfield shopping centres in Westfield Chatswood (5-8 July), Westfield Bondi Junction (12-15 July) and Westfield Doncaster (12-15 July) to encourage people to enter. Qantas will also donate $5 to Mission Australia for each photo uploaded to the value of $100,000.
The campaign will also be delivered via a new 3.5m wide AdShel display in Town Hall train station in Sydney from early July. In another personalisation feature, Qantas customers will be able to feature in their own personalised banner ads whenever they visit any site displaying the Qantas campaign, including Google, Fairfax and News Ltd sites.
The new multi-platform marketing campaign will also include a number of print, digital, outdoor and TVC executions which will be announced and rolled out in coming months.